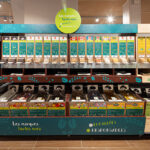 Paris, Feb. 25, 2021 — For the first time in France, consumers are able to buy packaging-free food items from renowned brands such as Kellogg's and Uncle Ben's. The pilot conducted in and around Paris relies on a special logistics process involving a clean room.
French retailer Franprix and 12 renowned food brands are experimenting with the sale of branded food products in bulk with logistics support from FM Logistic, a third-party logistics provider, and Bulk & Co, a company providing equipment to 'zero waste' stores. The experiment is called Les marques toutes nues ("Brands – naked").
Until May 2021, four Franprix supermarkets in Paris and the greater Paris area will allow consumers to stock up on pasta, rice, peanuts, sweets, coffee and other non pre-packaged items, bringing in their own containers to fill or using the bags the stores provide.
The difference with other bulk food stores or aisles is that all the products are from well-known brands and manufacturers, namely Ancel, Bénénuts, Carambar, Carte Noire, Ebly, Kellogg's, Lutti, Panzani, Taureau Ailé, Uncle Ben's, Vérival, Vichy and Franprix's own brand.
ILEC, a professional organisation representing 87 consumer products manufacturers, has played a coordinating role for the brands.
The assortment includes between 24 and 36 types of products, depending on the store's size. Franprix and the involved brands have committed to selling the products cheaper or at the same price as their packaged equivalents.
The experiment is made possible by the implementation of a specific logistics process for bulk food products, including warehousing and handling in a clean room at the FM Logistic warehouse in Mormant, south east of Paris. FM Logistic is responsible for receiving the products from production plants, filling them into specifically-made cardboard hoppers, and distributing them to Franprix stores.
The goal of the experiment is to test the business model by measuring customer feedback. Longer term, the objective is to encourage more responsible consumption and to reduce waste as much as possible.
The market for package-free products is growing fast in Europe, particularly in France, driven by the push for sustainability. Sales of package-free food products (excluding fresh food) reached €1.2 billion in France in 2019, up 40% from the previous year, and are expected to reach €3.2 billion in 2022, according to Reseau Vrac, a professional organisation.