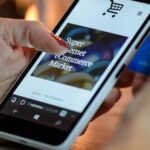 New Valiram partnership with BeLive Technology launches with live streaming event featuring global lifestyle brand TUMI, enabling consumers to purchase luxury travel and lifestyle essentials in real-time
Singapore, Nov. 29, 2021 — Live streaming solutions provider BeLive Technology has today announced a new partnership with retail specialist Valiram to revolutionize the way products are bought and sold through real-time interaction showcasing the latest collections.
The collaboration has launched with a live streaming event featuring global luxury travel and lifestyle brand TUMI. Anchored by a host, the live streaming event arrives in time for the holiday season and will enable avid shoppers to purchase their favorite TUMI Fall/Winter 2021 products across backpacks, premium luggage, and lifestyle accessories in real-time.
The leading provider of live streaming solutions in Southeast Asia with operations in Singapore, Vietnam, and Shenzhen, BeLive Technology has previously powered solutions for brands such as Zalora, Rakuten Group, and Bukalapak. To this date, BeLive Technology delivered 3.3 billion minutes of live video to over 100 million viewers worldwide, and this number is set to increase with this latest partnership with Valiram.
Founded in 1935 within the traditional realm of retail, Valiram was created with the goal of finding the best brands and locations and giving customers an exceptional experience in physical stores. With the current push into digital transformation powered by BeLive Technology, the Valiram business is in motion to expand its mission into the connected world.
This new platform allows for direct live shopping, real-time customer engagement, and sentiment analysis among shoppers across Southeast Asia. It enables direct engagement with viewers opening up two-way communication between shoppers and the premium retailer. By providing this platform for real-time interaction, the brand can capture shoppers anytime, anywhere, and engage with them in a more meaningful way than ever before.
The partnership launches with a live stream event featuring TUMI, one of the many internationally renowned brands in Valiram's portfolio. With Valiram being Southeast Asia's leading luxury and lifestyle retail specialist, the new live streaming event is the first in a series of Valiram projects in partnership with BeLive Technology. Valiram expects to roll out more live shopping solutions for other brands under its umbrella, with Bath and Body Works already in the pipeline.
Following months of lockdown and social distancing as a result of COVID-19, consumers have been forced to shop differently with an intent to shop online continuing to increase. According to Digital Commerce 360, consumers in the U.S. spent USD 791,70 billion online in 2020. A report by the United Nations Conference on Trade and Development (UNCTAD) also revealed that during the pandemic, the US witnessed a surge of 14 percent in online retail.
"We are delighted to be partnering with Valiram to provide a live streaming platform that will undoubtedly help build brand advocacy and increase customer loyalty for brands, starting with TUMI, said Kenneth Tan, CEO and co-founder of BeLive Technology. "Live streaming can help retailers increase sales while maintaining brand awareness. With the rise of e-commerce and consumer behavior shifting to browse-and-buy since the COVID-19 pandemic, live shopping solutions can be a gamechanger for businesses across Southeast Asia. The new live streaming event featuring TUMI goes beyond a traditional social media live show as it provides a path to purchase while delivering meaningful content, offering a truly integrated customer experience. By combining market-leading digital capabilities with online retail experiences, we are confident that this partnership will be a huge success."
"This partnership with BeLive Technology comes at the perfect time for us," said Mukesh Valiram, Valiram Executive Director. As the world embraces digital transformation, we are delighted to provide a powerful live commerce platform for customers. We believe that there are a lot of opportunities available to engage with audiences via social media and the live commerce capability goes beyond that by enabling users to purchase products directly via the platform. Through the combination of great content and secure online shopping features within this platform, TUMI and other brands in our portfolio will be better able to deliver a personalized and seamless retail journey to the customer."