Nordstrom's recent investment in supply chain software firm Dsco (formerly known as DropShip Commerce) uncovered not only their efforts to boost the speed of online order fulfillment, but also the growing trend for retailers to leverage technology to create faster, differentiated experiences as ecommerce continues to proliferate.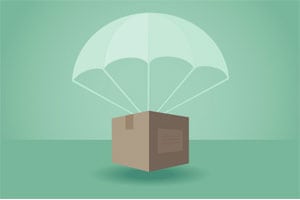 Drop shipping can be an extremely beneficial tactic for retailers when done right because it offloads some risks associated with inventory management. But for suppliers and retailers alike, it can create additional layers of complexity and challenges associated with quality and speed, among others. Therefore, drop shipping requires sophisticated, real-time API (Application Programming Interface) connectivity between all parties to support the logistics behind it.
We will discuss 5 things you need to know about drop shipping, including the benefits, challenges, and, most importantly, how to win.
What it is: Drop shipping (briefly) defined
Drop shipping is a retail fulfillment method where a third party, typically a manufacturer or distributor, handles shipment of a product to the customer after being purchased directly on a retailer's website. It's different from standard ecommerce fulfillment and delivery because the retailer never stocks or owns the inventory, eliminating significant up-front investments.
A drop shipping agreement between the retailer and that third party eliminates several steps of the typical supply chain. Retailers can offer a wider range of products online without ever needing to personally handle the inventory. And they only purchase items directly from the distributer or manufacturer as their customers buy them.
The pros
There are several benefits of drop shipping for merchants. Most broadly, it reduces a lot of challenges that both new and established retailers would face if they were using a standard fulfillment model. For example:
Less upfront capital required – Retailers often tie up significant capital in purchasing inventory. Drop shipping requires less upfront investment by enabling a more on demand model. Nordstrom, for example, doesn't need to stock hundreds of pairs of a new shoe.
Lower overhead – Since retailers aren't actually keeping merchandise in stock, they don't have to pay for warehouse space or oversee operations to keep items handy.
Increased flexibility – Retailers are also able to offer a wider array of products at no additional cost, allowing them to better meet consumer needs, scale quickly and rapidly respond to the evolving purchasing demands of today's consumer. They can sell new items or remove old ones from their website easily without stressing about excess leftover inventory.
The cons
While drop shopping is a very attractive model, with the convenience comes a couple of challenges that need to be considered:
Limited visibility – Since retailers are shipping from outside their owned inventory, they often lose visibility into key fulfillment milestones like ship dates, delivery timeframes and shipment tracking.
Stock-out risk and inventory issues – When retailers are sourcing from multiple warehouses and not managing their own inventory, they lose insight into how much of a certain item is available, resulting in less control over out-of-stock situations. Additionally, suppliers don't always utilize modern API technology required to provide real-time updates around inventory levels and changes.
Supplier coordination – Drop shipping often requires working with multiple suppliers for various products, which can become complex when trying to manage them all. This can result in errors on the supplier side, for which the retailer is typically held responsible. Additionally, a retailer's ability to maintain a consistent cultural and brand experience is reduced when giving fulfillment control to their suppliers.
Competitive landscape – Since drop shipping is an affordable fulfillment method even for small businesses, lots of competitors are also taking advantage of it. More cutthroat competition can result in lower margins.
How to win at drop shipping
The retailer and the consumer are the top winners with drop shipping. However, suppliers are also seeing great benefits from this tactic, since it has become increasingly in-demand, meaning ample new business opportunities and profits.
While there are some built-in complexities to the process, drop shipping can be seamless and near-fool proof with the right planning and technology in place. For example, when using APIs to facilitate data flow, information can be transmitted between a retailer's system and a supplier's within nanoseconds, reducing the abovementioned risks.
When it's done right, drop shipping can be the perfect logistical orchestration that benefits all parties involved. However, when marred with challenges like lack of visibility into supplier inventory or complexity from managing too many different suppliers, it can result in unhappy customers or lost sales. The best way to avoid that is to have API technology in place that ensures on-demand transparency and communication between retailer, supplier and end consumer.
Successfully drop shipping freight items
API connectivity between retailers, suppliers and end consumers becomes even more critical when dealing with larger ecommerce items (freight – think: furniture). With freight items, online ordering and fulfillment is still done manually. There is no live data feed connecting the supplier, retailer, final-mile transportation provider and consumer.
Because of that, it's increasingly difficult for retailers to select the optimal fulfillment method to meet their customers' needs, and nearly impossible to coordinate a seamless drop ship fulfillment of large items. Without API connectivity, retailers selling freight items through an ecommerce portal are missing out on innovative fulfillment solutions. For this reason they can lose customers to outfits like Amazon, Alibaba and Walmart that are able to provide both choice and transparency from point of purchase through delivery.
Leveraging the right tech for growth
Regarding Nordstrom's investment in Dsco, a spokesperson told the Wall Street Journal, "Dsco is helping to improve [customers'] online experience by reducing complexity in our supply chain.[1]" The move came as Nordstrom reported that online sales accounted for 20.7% of overall company sales for Q1.
As ecommerce continues to grow and the desire to reduce supply chain complexity increases, drop shipping will be seen as a way to speed delivery and cut out middlemen. APIs allow for integrated, immediate communication between the retailer, consumer and a potential drop ship vendor. With the right technology systems making drop shipping seamless for the retailer, distributor or manufacturer and the consumer, it's a winning method all around.
Jett McCandless is CEO and co-founder of project44
---
[1] Wall Street Journal, "Nordstrom buys stake in software firm," July 8, 2016.