The statistics for ecommerce shopping cart abandonment are high and the reasons have not seemed to change since 2009. In fact, some sources report that abandonment is on the rise.
Analyzing the most predominant reasons for abandonment, it was found that all 13 of them can be attributed to only four root causes.
Here are the top reasons people ditch shopping carts, their root causes and what you can do about it on your website.
The Real Reasons for Shopping Cart Abandonment
When customers say they abandoned a shopping cart for a particular reason, we need to dig a little deeper. For instance, if their reason was that they "suddenly decided they didn't need the product anymore," what made them suddenly decide that? The root cause of shopping cart abandonment in this case then, would be the reason within the reason for "deciding they didn't need it anymore".
I.e. What made them decide they "didn't need it anymore"?
It may be worthwhile using the Six Sigma approach to identify the real reasons for abandonment, so that you can fix the real causes of issues.
So to understand why people abandon the shopping cart, it becomes essential to know why people are using your shopping cart in the first place.
First find out why people use your shopping cart
The best way to find out why people are using your shopping cart, is to ask them. This can be done by using an exit intent survey: when the user moves to click the website closed or to leave the page, you can ask them a question like, "what made you decide to leave?"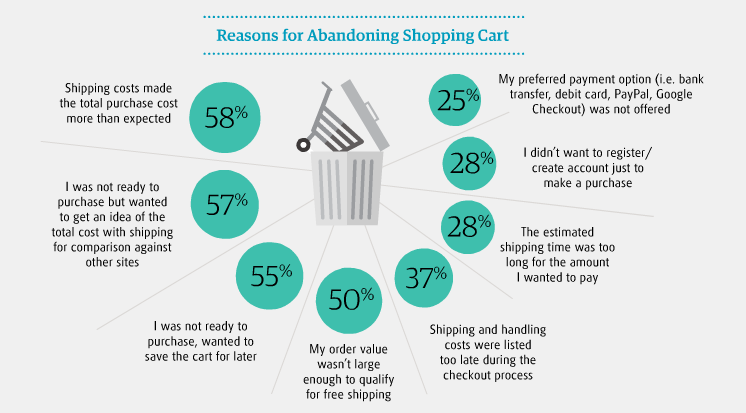 Some of the real reasons for so-called "shopping cart abandonment" are not so much abandonment as why the shopping cart was used in the first place. Image Credit: MaxTraffic
As you can see in the image above, some of the greatest reasons for exiting checkout before purchase, are due to:
Shipping costs
Wanted to know total price, but not ready to buy
Using checkout as a wishlist, for future purposes
No free shipping
In two out of the four cases above, people used the shopping cart feature not with the intention to buy then and there, but rather as a mechanism to a) check the price, and b) as a wishlist for future purchases. These reasons should therefore, not be included in your shopping cart abandonment rate, because they are not abandonment.
Work out your real shopping cart abandonment rate
When the exit intent survey has collected enough responses, you can get the real numbers for abandonment.
Find out the number of people who abandoned their shopping carts, either by using Google Analytics (here's a help guide by Lemond Stand for setting it up), or shopping cart abandonment software.
First calculate all the reasons for people wanting to leave your website:
| | |
| --- | --- |
| REASONS FOR LEAVING CHECKOUT PAGE | |
| | |
| Reasons | Number |
| The overall price was too expensive | 23 |
| I didn't want to set up an account | 45 |
| | |
| --- | --- |
| I only wanted to know the total price | 78 |
| I used the shopping cart as a wishlist | 50 |
Now that you have the reasons, you can work out the real shopping cart abandonment rate for your website by using this formula:
Automated cart abandonment rate minus
Reasons for using checkout function =
Real amount of shopping carts abandoned
What do the stats say?
To find out the real reasons people abandon shopping carts, we need a credible source to provide statistics that can be trusted, and then we need to analyze the root cause of the problems in order to fix them.
Looking at independent research conducted by Forrester in 2009, here are the top reasons for shopping cart abandonment, and their fixes: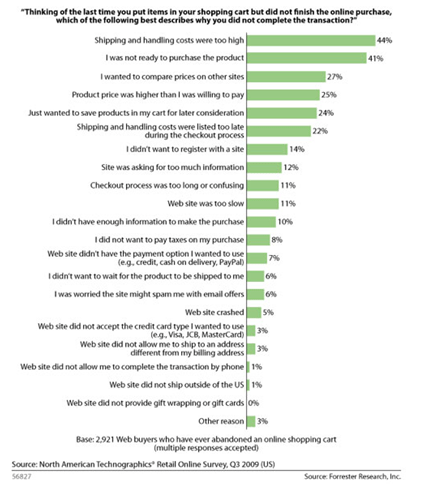 The reasons for shopping cart abandonment have stayed the same since 2009. Image Credit: MarketingExperiments
1. Shipping and handling costs too high
Fixes:
Show visitors additional or shipping costs on the product pages.
Offer free shipping with a certain amount spent.
Offer free shipping but cover your costs in the product price.
Don't add additional cost surprises like "administration fee", "processing fee", etc.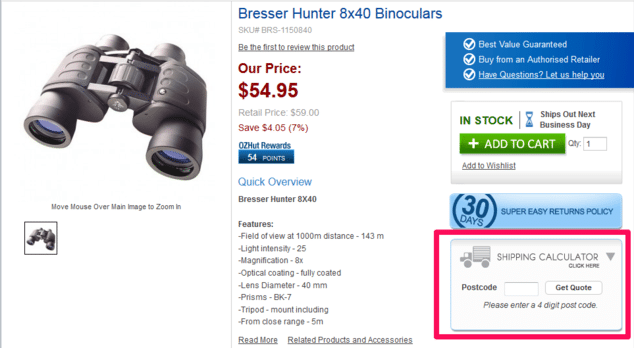 Ozscopes provides a shipping calculator on product pages in order to prevent "nasty" surprises during checkout.
2. Not ready to purchase
Fixes:
Include a wishlist function, or a way for users to keep track of things they like, in order to come back, but don't make them create an account to do so. Make it really easy like using their Facebook account to log in.
Add functionality so that users can easily view total cost at any time.
3. Price comparisons
Fixes:
Add your goods to comparison shopping engines, and get your technical team to include a "compare prices" function for your users.
4. Product price higher than the user was willing to pay
Fixes:
Show prices on product pages.
5. Used the cart as a wishlist
Fixes:
Add a "view anytime" wish list function to the website, without users needing to register, or by making the register process exceptionally simple.
6. Did not want to register or provide too much detail
Fixes:
Don't make customers jump through hoops to buy from you. Try to avoid making them register for an account, or if you absolutely have to, make it really easy without the need for too much detail.
7. Checkout process too lengthy
Fixes:
There is no need for a lengthy checkout process and if yours is, you are likely losing conversions as people ditch your process to find a simpler one, even if that action in itself takes more time than your long checkout process. Make everything your customer has to do, simple and as fast as possible.
8. Website too slow
Fixes:
It's a well known fact that people expect websites to load within a few seconds. Ecommerce sites especially, with all their product images, need to optimize their websites for speed. Check the speed of your website, and if it takes too long to load, follow these steps to making it faster.
9. Website didn't offer the payment option of the user's choice
Fixes:
Ecommerce sites really do need to offer as many payment options as possible. People are not going to go to the trouble of using another method if it doesn't suit them.
What else can you do to get back abandoned shoppers?
Max Traffic says that 75% of shoppers who ditch their cart, do so with the intention to return. How do you make sure that happens?
GetResponse offers shopping cart abandonment marketing automation you can use to target shoppers who abandon their carts. With this software, set up automated workflows that target people who ditch the checkout process. Safecyle reports that in a case study, the first automated email that's sent within 20 minutes of abandoning the cart, saw an increased conversion of 5.2%.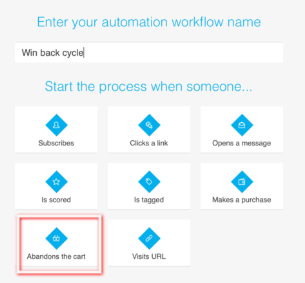 Set up automated shopping cart process flows with GetResponse shopping cart abandonment automation.
Here are other ways to increase conversions.
The top 13 reasons for shopping cart abandonment, boil down to a mere four root causes:
Ability to view costs from the get-go
Using checkout as a wishlist
Price comparisons
Ease of use
Address these four reasons, and you should be able to eradicate the highest reasons for shopping cart abandonment on your own website.
Rotem Gal is the VP of Marketing for InboundJunction