Many merchants kicked off holiday promotions in October, so this week probably feels like the end of a long campaign. But rather than wind down, merchants should muster strength for a final push with a series of last-minute tactics to help shoppers across the finish line.
The incentive for making the effort: a significant sales boost. As of Dec. 14, just 7.6% of consumers reported having completely finished their holiday shopping, according to the National Retail Federation, with 45.5% of those surveyed saying they planned to locate and purchase final gift list items online.
And the final days may be even stronger than the rest of the season: as of Dec. 29 last year, online sales were up 17% year over year in the week ending Dec. 26, compared with 13% for the holiday season overall, according to measurement firm ComScore.
To drive revenue gains in the next few days, merchants should focus on serving last-minute gift shoppers and gear up for post-season sales. Consider these tactics: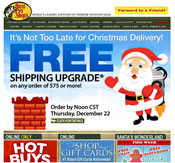 Put the spotlight on expedited shipping. The cutoff has passed for items sent via ground shipping to arrive in time for Christmas — but that doesn't mean shipping promotions are over.
Reward loyalty with free expedited shipping. Offering this convenient service to your most valued customers will deepen ties to your brand.
Offer expedited shipping for the price of ground, with or without a threshold – as Bass Pro Shops does with this email offer giving shoppers a free shipping upgrade on orders over $75. Or consider assigning a flat rate to expedited shipping to make calculating total order cost easier.
Step up promotion of site-to-store services. If shoppers can still select items online for pickup in-store, highlight that service, with clearly-stated cutoff times and restrictions.
Showcase electronic gift cards. Gift cards are more popular than ever, with the NRF estimating eight in 10 shoppers will purchase at least one this year. With the clock ticking down, put the emphasis on electronically-delivered options that can be purchased and printed or emailed instantly.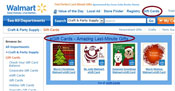 Spotlight gift card options throughout the site. Consider including a link to gift cards in the global header, in addition to promoting them in the central content area, as Wal-Mart does with a navigation link and a highlighted box for e-gift cards.
Put policies front and center. Let shoppers know how the purchase and delivery process works, and how recipients can redeem the cards – in-store, online, and/or via codes or coupons downloaded to mobile devices.
Don't forget social. Promote gift cards on social outposts, especially as crunch time nears; posts in social media feeds remind shoppers to finish their gift lists, and offer an easy solution.
Prepare for post-season shoppers by Dec. 25. The minute the red-letter day arrives, it's time to cater to all those gift card recipients – not to mention gift exchangers and bargain hunters. To take advantage of the new wave of shopping activity:

Spotlight redemption, return and exchange policies. Delineate online versus in-store policies, and prominently position customer service contact information across all your touchpoints – including mobile and social.
Promote self-indulgence. Now that the Santa-emblazoned gift wrap has been shelved for the year, shoppers can take advantage of sale prices to indulge their own desires.
Emphasize accessories. Spotlight items that go with holiday top-sellers, from apparel to electronics, as Toys R Us did in this banner last year, which promotes both accessorizing and gift card redemption.
Ken Burke(ken@marketlive.com) is founder and chairman of ecommerce platform provider MarketLive.