Is your business in need of a new search marketing strategy to take your holiday shopping sales to the next level? NetElixir clients have seen three times the holiday sales growth over the last three years compared to the market average, and are sharing some of their cutting-edge insights so you can boost your holiday sales as well. Read on below to learn the 5 need-to-know strategies that you should implement now based on their 2015 Search Marketing Holiday Calendar to get the most out of your holiday shopping this year!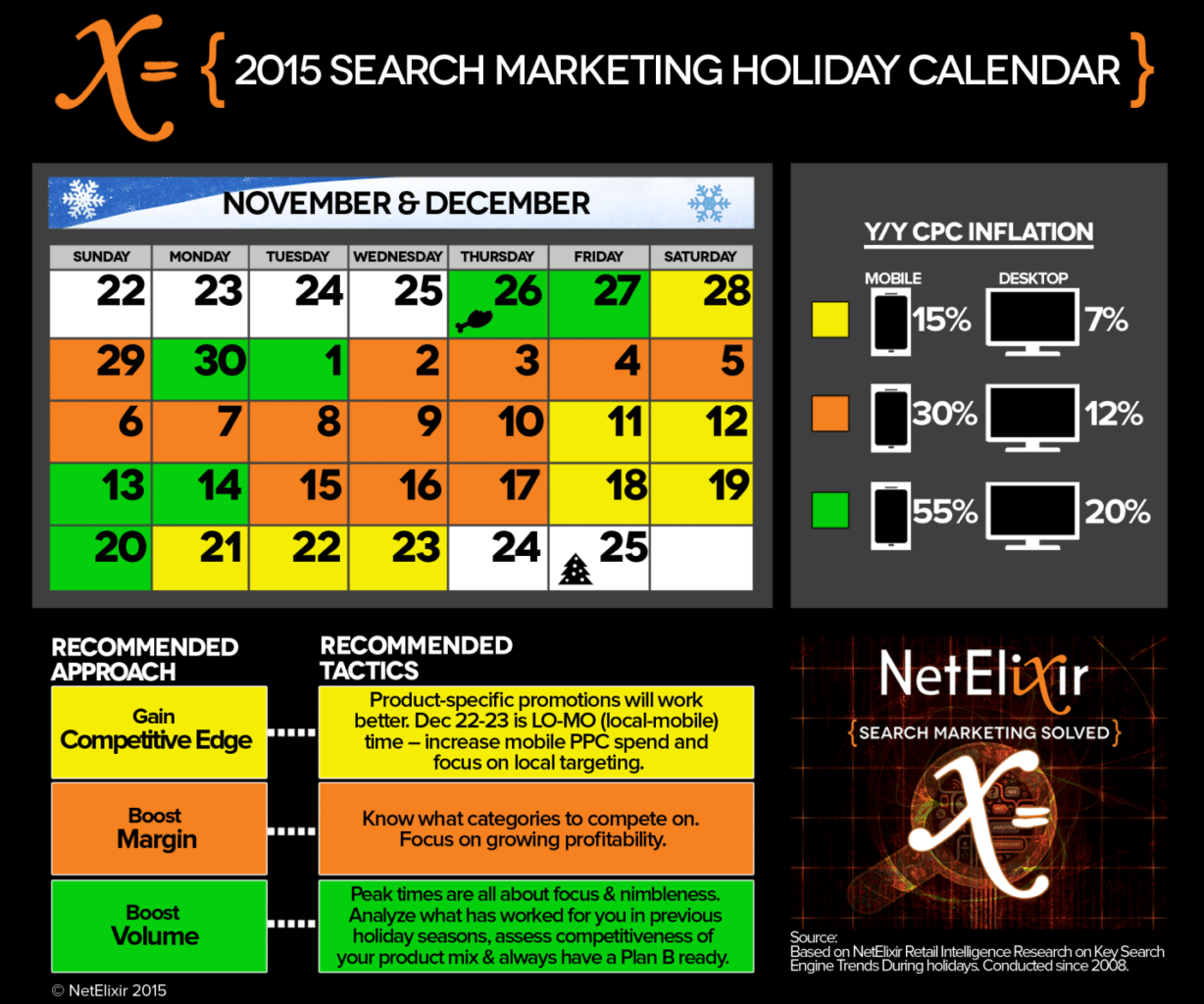 Gain a competitive edge by using product-specific promotions
For the days marked in yellow on NetElixir's calendar, it's crucial to have a competitive offer in place that will set you apart from your competitors. Product-specific promotions will be especially powerful, especially for local ads on mobile. December 22 and 23rd will be your key LO-MO (local-mobile) days—create unique mobile ads with local targeting to increase your profits on these days.
Boost your margins by focusing on top-performing products – do you know what you want to sell and when?
For the days marked in orange near the middle of the holiday shopping season, it's the perfect time to boost your margins by ramping up your advertising on your top performing products. Know which of your product categories are the most beneficial to compete on, and direct your focus on growing your profitability. By focusing on your top products during these key holiday shopping days, you'll be able to drive up your profits higher than any other time of the year, so take advantage.
What were the biggest shopping days for your business last year – how can you apply what you learned?
For the days marked in green on NetElixir's calendar, you can expect to see the greatest YOY inflation on cost-per-click. To come out on top during these key shopping days, it's important to have a clear focus on which strategies work for your unique industry. Analyze and assess what has worked for you in previous years and evaluate which of your products are the most competitive to create a fine-tuned marketing plan to drive up your profits on these days.
Over 50% of search traffic will come from mobile phones – are you ready?
Mobile usage is the highest it's ever been this holiday shopping season, so a carefully planned mobile strategy isn't just important, it's vital. Make sure you have a fully functional and user-friendly mobile site in place for your mobile shoppers this holiday season, and allocate some of your marketing budget to mobile PPC ads to reach mobile users right when they're trying to buy.
Keep track of competitor promotions – you can predict your competitors' future promotions.
By staying on top of what promotions your competitors are running for the holidays, you prevent your customers from being swayed to shop elsewhere by offering your own special offers. By always being up-to-date on what offers your main competitors are running, you'll know immediately and can react quickly with your own deals to compete for those users faster and more aggressively.
With these holiday marketing strategies, you can ensure you're prepared for each day of this year's holiday shopping season. Want to learn more holiday strategies for this year?
Udayan Bose is founder and CEO of NetElixir