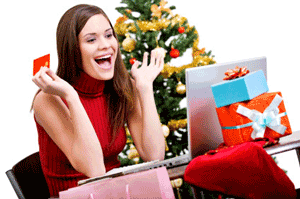 Cyber Weekend 2016 is just three weeks away. No doubt you're fine-tuning your game-plan to attract holiday season shoppers, and there may certainly be a few new wrinkles to think about in the days to come.
Based on a few surveys commissioned by ecommerce vendors, here's a look at how consumers are saying they will shop during the 2016 holiday shopping season. Think of these results as you finalize your game-plans.
Half of Consumers Plan to Shop Online
More consumers than ever before plan to shop online for gifts, according to Deloitte 31st annual holiday survey of consumer spending intentions and trends. Half (50%) of Deloitte's survey respondents plan to shop online for gifts, giving the Internet a bigger lead than ever over discount/value department stores (43%), which rank as the number-two destination for gift shopping. Survey respondents anticipate they'll spend 47% of their budget online, matching what they plan to spend at physical stores for the first time.
Online shopping may also take some share from physical store categories. Fewer people surveyed plan to visit standalone big box retail stores, dropping from 63% to 59% this year, and traditional mall stores fell slightly from 53% to 50%.
Not Just Online, But Mobile
Mobile is expected to overtake desktop for first time, but conversions will fall short, according to Adobe's 2016 Insights Shopping predictions.
Adobe says the use of mobile devices for shopping will exceed desktop shopping visits 53% to 47%, but poor mobile shopping experiences will only drive 34% of sales, which will create a 19% gap between mobile visits and mobile purchases. Desktops remain cash cow for retailers driving 75% of total revenue with 59% of traffic vs. smartphones driving only 16%% of total revenue with 32% of traffic.
Average order value on desktops ($155) outperform smartphones ($120) by $35 per order, while 30% of carts will result in an order on desktops vs. 19% of carts resulting in an order on smartphones.
Shoppers Will Do Their Homework
Consumers are in the habit of doing research before they shop or make a purchase and this trend only intensifies during the holiday season, says Jill Standish, Senior Managing Director of Accenture Retail. Standish says retailers must provide consumers with a hassle-free shopping experience, whether they are shopping online or in-store.
Shoppers will be doing a great deal of research before making their holiday purchases this year, according to the 10th annual Accenture Holiday Shopping Survey. More than four in five respondents (81%) said they plan to participate in webrooming, and the same majority said they plan to participate in showrooming.
The factors most likely to entice shoppers to buy from a store that they have not shopped at in the past year are promotions or coupons (cited by 72% of respondents), followed by the retailer having a specific item in stock they can't find elsewhere (58%) and the quality/range of goods (49%).
Marketplaces Will Rule
One of the study's key findings of NetElixir 2016 Holiday Consumer Insights Report is that the majority of consumers are planning to buy gifts through online marketplaces like Amazon and eBay (42%) and in-store (43%), while just 15% plan to purchase through retailers' websites directly. Of these consumers, 88.9% of the top earners with household incomes over $150,000 plan to shop through online marketplaces, while none in in that same income group expressed intent to buy through retailer sites directly.
When asked about reasons for choosing an online marketplace over a retailer's website, 'price' was cited as the top reason with 'trust' and 'variety of options' coming in as the other top reasons.
While marketplaces offer benefits like access to a huge customer base, retailers need to weigh these benefits against risks like commoditization and steep price cuts on their products when selling through such platforms, says Udayan Bose, CEO of NetElixir.
Shoppers are a Little Selfish
Many shoppers are taking the approach of "one for you, two for me" this holiday season, says National Retail Federation president and CEO Matthew Shay. That means merchants need to prepare by offering a wide array of items shoppers want to give as great gifts at prices so good they want to buy for themselves, too.
The NRF's annual consumer spending survey conducted by Prosper Insights & Analytics shows that 58% of consumers plan to buy for themselves, spending an average of $139.61, up 4% from last year's $133.74. That marks the second-highest level of personal spending in the survey's 13-year history.
Shipping and Delivery Costs Matter
Despite retailers' growing focus on speedy delivery options like 1-hour or next day delivery, 56% of consumers say cost is still the most important factor they consider when placing an online home delivery order, according to JDA's 2016 Consumer Survey. Almost half of respondents (46%) claim they are willing to pay for shipping for a particular priority item this holiday season, but they generally prefer to shop with retailers who offer free shipping.
With the continued proliferation of sales and discounting and the challenge of satisfying consumer demand across channels, Jim Prewitt, vice president of retail industry strategy at JDA Software, says retailers and manufacturers need an agile supply chain capable of keeping up with changing consumer behavior to better manage inventory and profitability.
Consumers Want BOPIS Done Right
Recent holiday hiring announcements by major retailers indicate an increased need for staff to support omnichannel fulfillment options, like buy online pick-up in store. This corresponds with JDA's survey results that found almost half of respondents (46%) have used BOPIS options in the last 12 months, a nearly 33% increase from the 2015 JDA Consumer Survey. The convenience of the service seems to be the primary driver of growing adoption rates, with 39% using it to avoid home delivery charges and 31% wanting the product sooner.
While BOPIS services have become more popular, retailers are still figuring out how to streamline the process and manage mounting customer expectations. Forty percent of the respondents who have leveraged BOPIS in the last 12 months have experienced a problem. Of those problems, staff-related issues seem to be most predominant, with 22% of respondents reporting that store associates took a long time or were unable to find their order, and 15% reporting a lack of dedicated BOPIS staff to assist with pick-ups.
Consumers Want Convenient In-Store Returns
Half of consumers surveyed by JDA find having to pay for return postage and packaging the most frustrating part of returning online items. While 80% of consumers have not used buy online return in store services in the last 12 months, 67% of respondents would prefer to return an online purchase to a store than through the mail. Of those who have used BORIS services in the last 12 months, 40% did so to avoid the hassle of return deliveries.
This only drives home the need for retailers to increase options to meet the demands of digital consumers who continue to influence shopping trends, JDA's Prewitt says.
Tim Parry is Multichannel Merchant's Managing Editor.