Things move fast in the world of ecommerce. An innovative and differentiating feature as recently as two years ago, ratings and reviews are now commonplace on the majority of ecommerce sites. In fact, Forrester Research finds that:
Nearly one in two ecommerce sites feature cus­tomer ratings and reviews on their product detail pages.
81% of U.S. web buyers have read online ratings and reviews of products or services on a retail website.
Allowing customers to post their thoughts about your products is still a critical component of the shop­ping journey and purchase process. Once again quoting Forrester Research, 63% of online shoppers are more likely to buy from sites with ratings and reviews.
Given that ratings and reviews are still influential and that other online retailers in your market are most likely providing their shoppers with similar capabilities, what can you do to increase ROI and distance yourself from the competition?
Learn from the Leaders
One of the best ways to improve your own ratings and reviews is to evaluate and emulate what the leaders are doing. This article examines several of the best techniques being used today and describes how you can benefit by implementing similar methods.
ELEVATE RATINGS
REI does a great job of bringing star rating averages to the forefront of its product detail pages (see Figure 1). In addition, the outdoor retailer exposes the total number of sub­mitted reviews along with the distribution of ratings.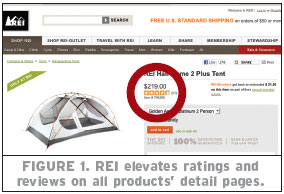 As you can see in Figure 1, the average rat­ings are highly visible and placed just below the product name so that shoppers can quickly evaluate items based on other cus­tomers' opinions.
RAISE CREDIBILITY AND RELEVANCE
In addition to doing a great job elevating ratings, REI has mastered the art of tagging. To increase credibility and rel­evance of ratings and reviews, allowing customers to rate and tag a specific product attribute, such as quality or appearance. This should be done in addition to providing an overall product rating summary.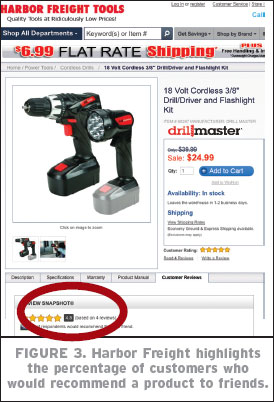 CREATE CONNECTIONS
Harbor Freight is building explicit connections between ratings and the percentage of customers who would recommend the product to their friends. The example shown in Figure 3 shows that 100% of customers would recommend the product to their friends.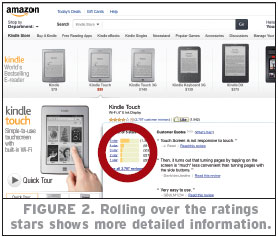 OFFER A QUICK VIEW
Some leading retailers provide a quick view of ratings results by rolling over a star to show a drop-down sum­mary. As with many online innovations, Amazon executes this idea flawlessly (see Figure 2). When more informa­tion—including the total number of ratings, a link to view all reviews, and the top-three most helpful customer quotes—is quickly provided, shoppers can be more deci­sive in their buying decisions.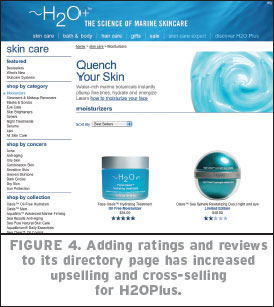 INCREASE EXPOSURE
Beyond product detail pages, leading retailers are increasing exposure with global navigation and by placing ratings and reviews wherever thumbnail images are displayed. With global navigation, focus on the top-rated primary or sec­ondary categories. In addi­tion, include ratings and reviews as part of faceted navigation and as part of a directory "sort by" option.
As shown in Figure 4, H2OPlus has successfully added ratings and reviews on its directory page, increasing cross-sell and upsell oppor­tunities.
GO MOBILE
According to eMarketer, 58% of mobile users (149 million people) in the United States will have smartphones by 2015. Given the rapid rise of mobile devices, more merchants are includ­ing ratings and reviews on their mobile sites. Sephora has gone so far as to create a mobile site dedicated just to reviews.
RESIST CENSORSHIP
One of the hardest things for retailers is suppressing their desire to delete reasonable, negative reviews.
No retailer, no matter how good its products, will receive only five-star ratings and glowing reviews. If your blood pressure rises when reading unfavorable reviews, remember that keeping negative write-ups on your site serves only to increase your credibility. In fact, Forrester Research states that negative reviews comprised just 16% of total reviews posted. In addition, these reviews were considered helpful by 50% of shoppers.
Also remember that consumers evaluate reviews with healthy skepticism. They can often tell, for example, when a review has been written by someone who "has it out for" the company. Reasonably written negative reviews can also serve to help shoppers find a product that is a better fit for their specific needs, even on your own site.
ENCOURAGE PARTICIPATION
Many leading retailers try to entice customers to provide reviews, because a lack of review content on a product page can indicate to shoppers that the item isn't popular. Think of it this way: When deciding which restaurant to eat in while walking down a city street, most people choose the establishment with the most patrons. The psychology at work is that, "if they like it, I should like it."
You can encourage customer reviews by holding a contest for the most well-written review, promoting reviews through email marketing, sending follow-up emails after purchases, and calling attention to prolific review writers. For example, Macy's encouraged its cus­tomers to write reviews by offering a chance to win a $1,000 gift card.
A few retailers replicate inserting a card into a box (commonly known as a box stuffer) to encour­age reviews. You can use wording like "Contribute to our community" or "Speak your mind to win an Apple iPad." You can also come up with a clever way of reminding customers to go back and submit a review on the items they just purchased.
While it's tough to keep an innovative edge for long, reviews allow you to stand out from your competition. And when implemented correctly, better ratings and reviews still have the power to boost sales and increase customer loyalty—and increase the return on your investment.
Ken Burke is founder and chairman of ecommerce software and solutions provider MarketLive.