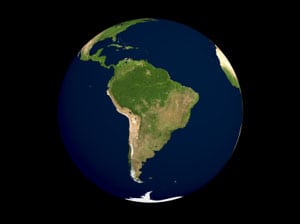 Merchants should avoid the temptation to view Latin America through a single consumer lens, as each country has its unique flavors, challenges and opportunities, attendees were told during a panel discussion at Multichannel Merchant's recent Growing Global conference.
Working with in-country partners is also important, especially in Brazil, the region's major market, where Portuguese is the primary language and many protectionist barriers have been erected, panelists said. There, a partner is required to take advantage of the local Boleto payment system.
"How you merchandise and what you sell in each country is very key," said Fredjoseph Goldner, CEO of Aeropost. "For instance it's completely different in Columbia and Chile. In Columbia, take-up in high-end merchandise is not very good, and midrange apparel brands do well. In other markets like Chile, car replacement parts are big. You also need to have local understanding and sensitivity."
Panelists recommended going the delivery duty paid (DDP) route when selling items into Latin America, as consumers don't like the hassle and surprise of having to pay more on delivery.
"When you tell a buyer exactly how much they have to pay, it's a much smoother process – and they don't have to go to the local post office to get their item," said Helcio Nobre, founder and president of Dabee Technology Inc. "The user experience on delivery duty unpaid (DDU) is terrible. They get a letter telling them they have to go to the post office to pick up the parcel, and pay cash."
Nobre said it's best to go with a partner who can help merchants figure out duties and taxes, knows how to get products through customs and can provide reliable delivery dates. "A lot of companies have figured all that out," he said.
Goldner said the Latin countries from Columbia and north have a "good orientation" or predisposition toward U.S. merchants, especially Mexico. "They have good logistics, and in Mexico in particular most of the transactions are in cash at the store or through consumer financing. It's a great market, and a piece of the ecommerce pie no one is paying attention to."
As in other parts of the world, panelists suggested that domestic merchants start out with a marketplace approach in Latin America; the largest one in the region is Mercado Libre. "To get your feet wet without a lot of risk, it's better to start with a marketplace to offer cross-border trade," Nobre said. "Doing one integration is much easier than going country by country."