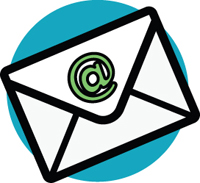 One of the truly great mysteries of online marketing is why so few merchants use behaviorally triggered e-mails to boost customers' recency, frequency, average order value and retention.
Recent studies find that a third of Web merchants failed to send any e-mail to new subscribers within 30 days of sign-up. And 60% didn't send "welcome" e-mails to new registrants, according to deliverability firm Return Path.
Once behaviorally triggered e-mails are set up, they're automatic. They don't have to be all that complicated. And by all accounts, they work like gangbusters.
Apparel and home goods retailer SmartBargains implemented behaviorally triggered e-mails nearly five years ago. It's now achieving response rates from the program that are up to 10 times that of its regular e-mail campaigns. Even on the same list, says Stephanie Brocoum, vice president of marketing for SmartBargains' parent Retail Convergence, "targeted content shows us a lift of up to 50%."
SmartBargains, which works with e-mail service provider e-Dialog, began its triggered e-mail program with abandoned-shopping cart messages, Brocoum says. Today, it has about a dozen triggered e-mail programs in place.
"We have a series of e-mails that go out in what I call the post-purchase cycle," says Brocoum, including purchase confirmations, cross-sells and reactivation messages for people who haven't bought again in 30 days. SmartBargains also sends "click-response" e-mails to people containing products from categories they recently browsed.
So where should a merchant start when implementing triggered e-mails? E-Dialog recommends these five types.
"Thank You" or "Welcome" messages Welcome messages are great vehicles for a sales pitch. Plus, they're simple to put into place, says e-Dialog's vice president of professional services Ben Ardito. When marketers are passing data to their ESP, "everyone has a new opt-in date, and to batch out a triggered e-mail based on that opt-in date is easy."
And it's fairly easy for those who outsource their e-mail to set up their systems so the ESP gets the new address at the same time as the marketer. "You want to get some type of welcome off to that person right away," says Ardito.
Ten e-Dialog customers that have implemented welcome e-mails are seeing, on average, from 40% to 60% open rates, says Ardito. To put this metric in perspective, an "open" is recorded when the receiving computer calls for a graphic from the sending machine.
With most ISPs blocking graphics by default, a 20% open rate is more the norm. A high open rate means recipients are making the effort to turn on the graphics from that sender. These same 10 companies are experiencing an average 15% click rate, says Ardito.
Abandoned shopping cart e-mails Another sure-fire way to boost sales with behaviorally triggered e-mails is by contacting people who recently abandoned an online shopping cart, as the SmartBargains example attests.
With abandoned-cart e-mails, one retail customer of e-Dialog's achieves a 60% open rate, 30% click rates and three times the average revenue per customer than its typical promotional campaigns.
First-time buyer e-mails If a prospect doesn't buy within 30 days, Ardito says, "they're not likely to ever buy, and definitely not likely to be a long-time or multipurchase customer."
After a certain amount of time, say 28 days, the marketer should have an e-mail ready to go out to those who have yet to make a purchase, he adds. "We recommend that there be an offer in that e-mail, such as 10% off, or free shipping, to trigger that purchase," he says.
Second-time buyer e-mails Once you've received that first key purchase, "the second-time buyer e-mail is the same concept as the first-time buyer message," says Ardito. "That second purchase is the one that will most likely lead to someone being a long-time value customer."
He adds that the second-time buyer e-mail can be similar to the first-time buyer message — ready to go if there is no activity in the account for a certain period of time after the first buy.
Birthday and anniversary triggers The message can be a "happy birthday" offer if the merchant has that information. It can also simply acknowledge that it's been a year since the recipient signed up to get e-mail from the merchant, says Ardito. "It's about exceeding their expectations," he says. "It's easy data to get and presents an easy opportunity to be more relevant for the customer."