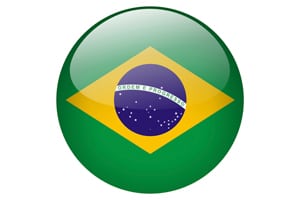 AliExpress, Alibaba's online marketplace that specializes in inexpensive goods, is exploding in Brazil because it's cheaper for consumers to buy there than from a domestic seller who pays the high cost of importing them, an expert panel told attendees this week at Growing Global 2015.
"Brazilians like (AliExpress) even if it takes time for their order to arrive," said Alphonse Voigt, CEO of EBANX, a company offering ecommerce payment solutions to companies selling into Brazil. "They've been educated to wait for products from China for 30-60 days or more. The products are cheap, and it's become a fever in Brazil. … (Alibaba) has invested a lot here, and they're just rocking it."
A.J. Hernandez, president and CEO of SkyPostal, a fulfillment company specializing in Latin America, said products from AliExpress are cheap and there is a large selection. "They're taking advantage of the market, shipping 220,000 items a day into Brazil – there's incredible volume," Hernandez said. "It's causing 60-plus-day transit times from China, which is ironic considering the Chinese expect orders to arrive in two days."
But Brazilians are used to waiting a long time for ecommerce orders, and the products from AliExpress are cheaper than from domestic merchants who import goods, even with duties and taxes added, he said. Generally speaking, Hernandez said, shipping goods cross-border into Brazil can cause a doubling of the final cost when all the taxes and duties are added in.
In terms of payment preferences, Brazilians eschew PayPal and credit cards in favor of Boleto, a government-issued card used for online and ATM payments. Out of 60 million Brazilians, 17 million made cross-border purchases in 2014. Fashion is the top category, especially goods from China, followed by electronics.
When asked if it made more sense to set up shop in Brazil to avoid the high costs of importation and the long transit times, Voight said most companies throw up their hands at the complexity and use an in-country partner.
"When they understand the full cost of setting up in Brazil, they simply decide to ship from abroad and use a local partner," he said. "Localizing in Brazil means lots of planning, calculation and understanding the whole environment before you come in. We call it playing the Brazil game."
Hernandez said there is a common misconception that Brazil has a di minimis value, meaning orders below a certain value set by the government are exempt from import duties. Instead, he said, there is an exemption for gifts sent via postal delivery, which merchants try to circumvent by making an order appear to be a gift. "But they can be nabbed in customs when they see a commercial invoice," he said.
Similarly, he said, Brazilian cross-border shoppers "roll the dice" when ordering items delivered via their postal service, knowing that 30% to 70% of orders are intercepted and incur duties. "When it does, the Brazilian Post sends them postcard seeking payment, which they often ignore and abandon the item, probably charging it back to AliExpress. It's a double-edged sword: they can opt for a poor transit time but maybe pay no tax, or use an express shipper and pay tax but get the item in a reasonable time, which for them is under 20 days."
Voight said installment payments are a very popular way to shop in Brazil, as well as in Mexico. "When Brazilians see an iPhone, they don't see it as $400 but instead think in terms of 10 monthly installments," he said. "We're in the middle of education process for international merchants selling high-value items into Brazil. Of course there's an expensive interest rate for consumers, about 1.5% per month, but for things like digital goods it works very well."