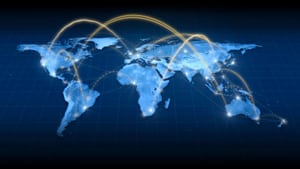 Global ecommerce is fast becoming a mainstream objective, not just for visionary retailers but across the board as companies look to other shores for new opportunities as the domestic market becomes saturated.
This was the message from Kris Green, Chief Strategy Officer of Borderfree, during a fireside chat at Multichannel Merchant's recent Growing Global conference. Green, who started with Borderfree's predecessor firm in 2000, shared about the past, present and future state of global ecommerce.
He reflected on how the industry has changed from 15 years ago, when global expansion was the exclusive province of very progressive brands, while most companies chose to focus on the large ecommerce growth opportunities then available in the U.S.
"Now especially as many U.S. retailers are seeing 20-30% of their website traffic coming from non-U.S. IP addresses, they feel the need to diversify across global economies while monetizing international traffic," Green said. "Retailers also see ecommerce as an opportunity to help drive their brick-and-mortar expansion strategies."
When asked about common retailer mistakes in cross-border strategy and execution, Green said they often view shipping costs as less important in other countries as they are in the U.S., when they are actually the largest obstacle to international conversion.
"They also err in trying to create marketing plans for 'the rest of the world' as if it was a single country," he said. "And it's common for marketers to assume that consumers will flock to their site once they add international capabilities. However like everything else it needs to be promoted to the right audience."
Green cited free shipping, free returns, duty and value-added tax inclusive pricing, translated front ends and alignment with stores in other countries as important attributes for retailers to include in their global ecommerce strategy.
Localization tactics that can make a huge difference in conversion include converting currencies, rounding prices after conversion and translation through minimization – often achievable by using more on-site visuals, he said.
Some retailers in particular are getting creative in their global approaches, Green said.
"Omnichannel and global are converging, especially as more U.S. retailers set up stores internationally and focus on tourists," Green said. "In the UK, J. Crew has full alignment between web and store in British pounds. Bloomingdales celebrated Chinese New Year in U.S. stores to create awareness of their global shipping capability among domestic shoppers with friends and family in China, and for Chinese tourists. And Pottery Barn promotes the ability of its U.S. website to ship globally from international stores."
As for the future of global ecommerce, Green predicted it will evolve to the point where it becomes a standard part of the marketing plan, not just a great growth vehicle but a means of competing and surviving as cross-border ecommerce flows in both directions.
"I see the term 'global' going away, replaced by just 'ecommerce' unbound by any geographic distinction," he said. "I also believe duty calculation will become extinct. Then consumers around the world will have the same shipping options and conveniences across both in-country and out-of-country sites without needing to think or care about where the product is coming from."