"The message is clear: retailers should be concerned about sustainability because consumers are concerned."
Editor's Note: Multichannel Merchant is partnering with Brian Kilcourse, managing partner at RSR Research for our Q2 focus on sustainability and recommence to provide our readers with data-driven insights. This executive summary provides perspectives from retailers and consumers, who are becoming increasingly sophisticated in terms of what they expect when it comes to sustainability. This overview shares data points on consumers' purchase decision-making, sustainability expectations, and the need for a sustainability roadmap.
When it Comes to Sustainability, Consumers Do Care!
For the retail industry, sustainability is a broad subject that encompasses everything from ethical sourcing of raw materials and social responsibility regarding factory labor, to environmentally conscious manufacturing processes and reducing the carbon footprint associated with bringing products to market, and all the way to product end-of-life recycling. But retailers are being driven more by changing consumer expectations than internal considerations when prioritizing efforts associated with sustainability.
The reason for that is straightforward: consumers have clear ideas about what "sustainability" means when they are shopping for products. When RSR conducted a consumer study of almost 1,100 shoppers in late 2022, shoppers were clear about the concerns that they care about most (Figure 1):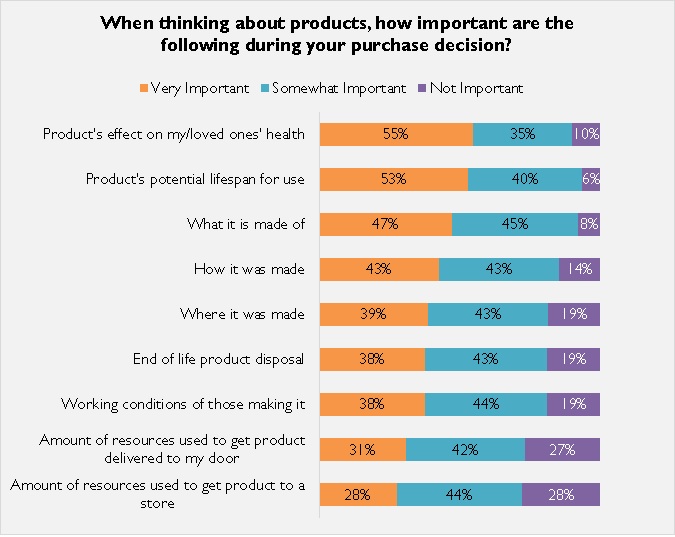 Consumer responses show that where a product was made, how many resources were required to get it to a buyer's door or even to a store shelf, are all somewhat important to shoppers. But what really matters most to them relates directly to health concerns: what the product is made of, its overall lifespan and its direct effect on the user's health. These are highly personalized concerns.
For consumers, sustainability is about them – and their health. And it doesn't just stop with importance: shoppers also indicate that they are willing to pay more for products that meet their sustainability expectations (Figure 2).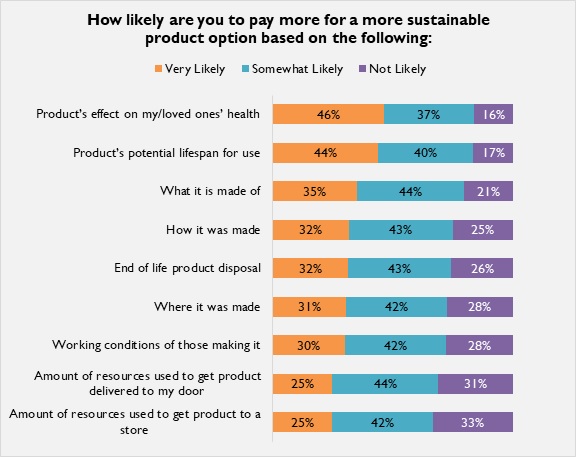 For over-performing retailers (those that RSR calls "Retail Winners"), sustainability is quickly becoming a competitive wedge issue separating them and other lesser-performing retailers. Recent research from RSR shows that while all retailers acknowledge its importance, over-performers are most keenly aware of both the operational improvements associated with the sustainability agenda and of how the company's value can be enhanced in the eyes of consumers (Figure 3).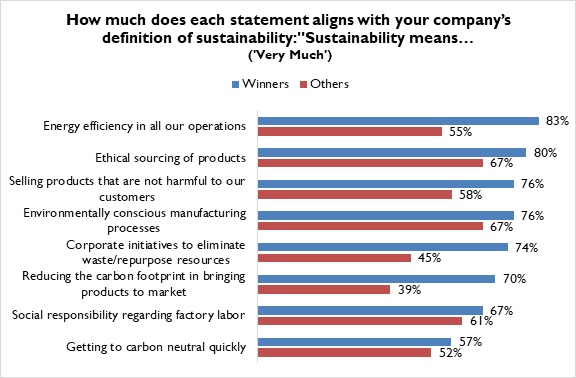 While Retail Winners put more emphasis on their sustainability agendas than do average and under-performers, most retailers acknowledge the importance of having such an agenda. However, only over-performing retailers are effectively using it as a competitive wedge issue (Figure 4).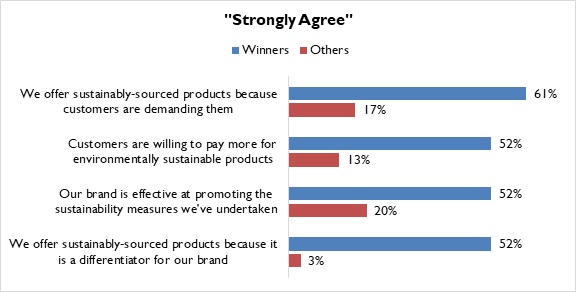 The message is clear: retailers should be concerned about sustainability because consumers are concerned. Furthermore, while over-performing Retail Winners are already viewing sustainability as a competitive differentiator, it will soon be table stakes for all retailers. But by that time, laggards will be far behind the leaders.
Understand Where Green Is Going
Consumers have made their feelings about environmental issues crystal clear. The messages that resonate most with them are directly related to something far more personal: their health. But while consumers are willing now to pay something more for products that they believe help them to live healthier lives, that advantage will be short-lived, as other retailers get the message and commoditize the value.
Other issues will rise in importance: how a product is made, where it is made, what the working conditions are for those who make it, and how the product will be recycled. Retailers also need to be aware of the efficiencies associated with a sustainability agenda: eliminating waste, reducing carbon emissions, and addressing the costs associated with direct-to-consumer deliveries (packaging, last-mile logistics).
The sustainability challenge is a big one that requires an enterprise-wide focus. As is so often the case with enterprise-wide strategies, a statement of principles from the top of the company is an important first step. Here are just a few examples from industry leaders:
"We aspire to become a regenerative company – helping to renew people and planet through our business…addressing societal issues in ways that create value for our business and stakeholders – lies at the heart of Walmart's enterprise strategy and our approach to ESG issues…We prioritize the ESG issues that offer the greatest potential for Walmart to create shared value."
– Walmart (US)
"Everything we sell depends on nature. It is important we source raw materials responsibly, taking only what we need. Our nature-focused sourcing commitments reflect the variety of environments from which we source and include actions we are taking today and will take in the future."
– John Lewis Partnership (UK)
"We believe that what's healthy and sustainable should be accessible and available to all. We are working towards this through our 'Grounded in Goodness' strategy, that focuses on healthier people and a healthier planet."
– Ahold Delhaize (Netherlands)
The next step is perhaps more tangible. In recent RSR research, 61% of retailers identified the following as a top priority: Implement business analytics capabilities that help us measure the effect of sustainability efforts. This speaks to the need for a sustainability roadmap – the step-by-step path to a better future. As with all roadmaps, measuring progress against tangible objectives and milestones is key.
Finally, a commitment to transparency is critically important, for employees, trading partners, investors – and most importantly for consumers. Top retailers today issue annual sustainability reports coinciding with annual earnings reports. All retailers should follow suit.
You can learn more about Brian Kilcourse and the work that RSR Research is doing here.