The world's top brands have started investing in digital trade promotion and are eager to partner with merchants that can run hyper-personalized, data-based marketing campaigns to promote their products. Consequently, the trade promotion market has already risen to a $465 billion valuation, presenting an exciting financial opportunity for merchants and ecommerce companies.
Leveraging the right technology will be key in acting swiftly on this important trend. It helps lay the groundwork for sustainable profit increases, reduced admin work, improved trade spend and nurtured brand-merchant partnerships.
A brief overview of trade promotion
Trade promotion is a combination of sales and marketing activities run by retailers, merchant sellers and ecommerce companies. The goal is to promote and drive sales of stocked brand items, such as seasonal promos, free samples and marketing campaigns.
Brands provide funds from their trade spend budgets to omnichannel retailers, who in turn run trade promotions across their various customer touchpoints: stores, webstore, ecommerce platforms (Amazon, Alibaba, Shopify, etc.), social media, website banners, events, etc.). The process involves:
Contact between retailers and brands
Presentation of available merchant advertising and promotional formats
Selling and upselling: merchants receive trade spend budgets from brands
Merchant campaign creation and management
Performance measuring and reporting of trade promotion activities
The past years have seen CPG companies significantly increase trade allowances due to changing market trends, like shifting consumer preferences and consolidating markets. By selling more trade promotions, merchants aim to get a piece of this spend as a means to create a revenue stream.
New challenges require scale-ready tech solutions
The swift rise of trade promotion is leading to issues caused by older and usually dispersed ways of managing the process. Without the right tech to ensure speed and scalability, merchant teams have complained about heavy admin work, data entry errors and information missing or dispersed across numerous communication channels.
On the brand side, 85% of CPG companies face challenges such as overspending and ineffective trade management. They haven't yet managed to maximize trade promotion ROI, despite spending billions each year.
The problem boils down to companies that haven't taken a digital-first approach in order to grasp the full potential of trade spend. A recent survey showed that 32% of companies don't digital trade spend capabilities at all.
3 ways to digitally overhaul trade promotion
Creating new revenue streams by monetizing touchpoint formats
To ensure long-term profitability in a changing market, merchants need to consider trade promotion as a bona fide revenue stream. This means sales teams need to shift some focus to monetizing available, or not yet considered, retail advertising spaces. BCG estimates that the $110 billion commerce media market will generate nearly $75 billion in profits by 2026.
Advertising space in terms of trade promotion differs from traditional ads on Google and Facebook; there are formats available at different types of customer touchpoints. You can see some examples in the infographic below: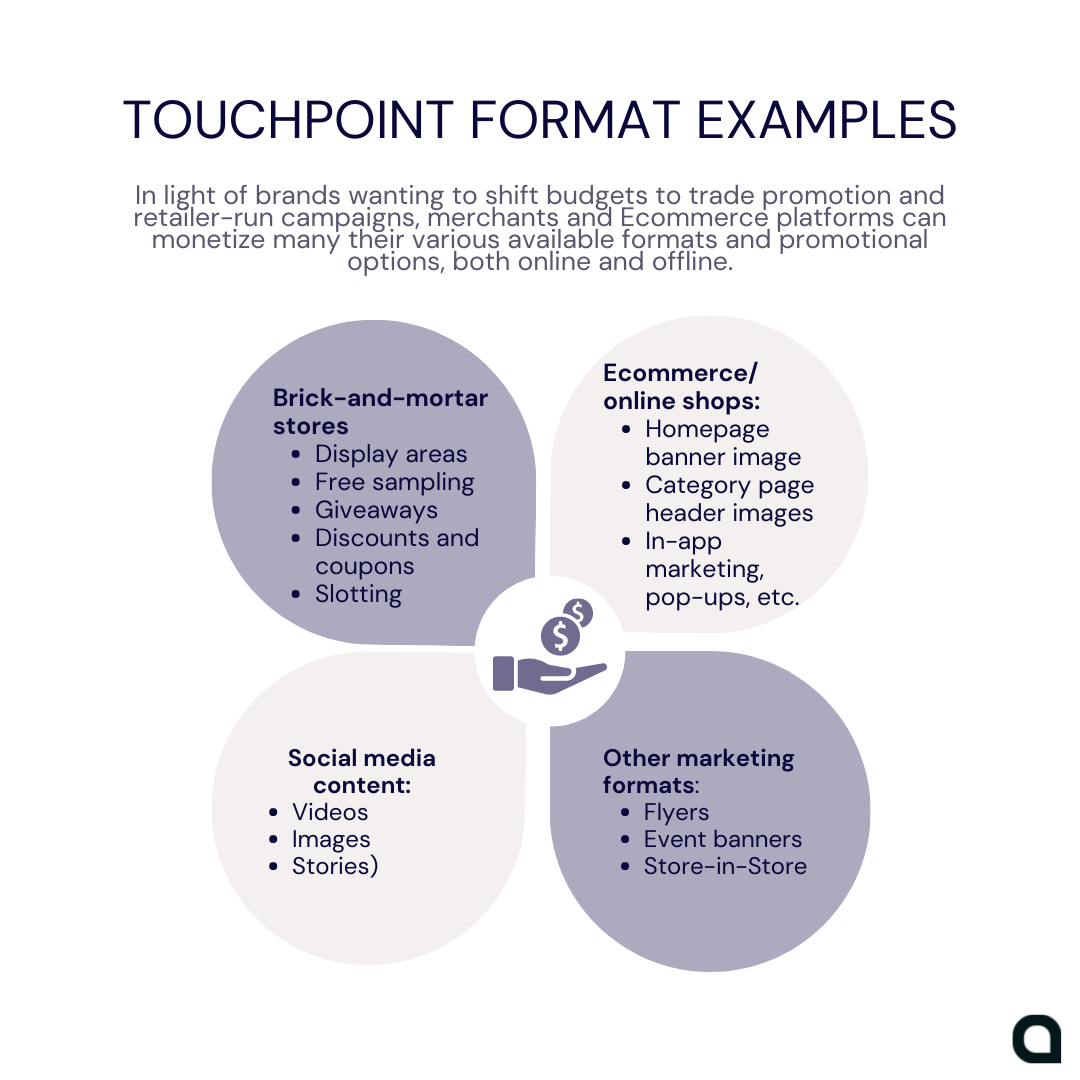 Many retailers, especially newcomers, aren't yet fully monetizing all of these formats. Leading the way is Amazon, which realized $31.2 billion in revenue in 2021 from advertising alone. Retail media accounts for 68% of their global profits. These results are partly due to having made the process of using Amazon Advertising extremely straightforward for brands. Drawing from their example, you need to make it easy to select and work with an array of touchpoint formats.
Improving siloed workflows with merchant-brand collaboration
A key component of trade spend strategy for merchants is to become the marketing partner of choice for brands. Next to sales, position yourself as a top partner that will grow awareness and increase customer buying intent for the brands you work with.
Merchants have the key advantage of owning first-party customer insights that brands need, especially as Google and Apple phase out third-party cookies by the end of 2023. With access to this valuable customer data, you're well-positioned to run closely tailored marketing campaigns that will engage brand customers. You can also provide them with clear reports on trade promotion performance, a step that's commonly skipped in brand/merchant partnerships.
In reality, the retailer/brand collaboration needs an update along all points of the trade promotion process. Both sides usually manage their responsibilities separately, despite many common points such as trade spend overview, approvals and campaign management. Information is generally shared by email, WhatsApp, PDFs or PowerPoint.
To improve cooperation, both retailers and brands should consider finding one central workplace to agree on awareness-driving formats, manage campaigns and capture results. The 2022 POI State of the Industry Survey showed that promotion planning and optimization topped the list of what companies would like to improve on this year.
Measuring and reporting for ongoing optimization
As it stands, brands provide trade spend budgets in the thousands to merchants, retailers and ecommerce companies without receiving many details on campaign status and overall performance. Usually, they get a total sales number at year's end.
Most companies use spreadsheets to manage their trade spend, putting them at the beginning of their journey with trade analytics. However, new technology like real-time analytics and AI can allow you to analyze what is spent and how, optimize spending and generate what-if scenarios based on tweaking variables like placement or promotion length.
Trade spend can be better allocated to optimized promotions that take the shopping behavior of specific segments into account. This helps sales grow, keeps budgets on track and reduces leakage.
According to a Promotion Optimization Institute survey, trade promotion benefits in 2022 included additional visibility into business opportunities and risks, less poorly performing promotions, improved processes and forecasting and higher annual trade spending returns.
Becoming the marketing partner of choice
The nature of competitive markets requires you to position yourself as not just a sales partner, but a strategic partner brands want to work with. A digitally enhanced collaboration will make it easier to agree on suitable digital marketing formats, align campaign management, achieve spend transparency and ensure long-term profitability in a changing market.
Richy Ugwu is the CEO and founder of unea