Fashion retailer Celeb Boutique committed a major social media faux pas today.
Hours after 12 people were killed and 59 people were injured in a mass shooting in an Aurora, CO movie theater, Celeb Boutique decided to joke about a related Twitter hashtag.
The tweet from @celebboutique read"
"#Aurora is trending, clearly about our Kim K inspired #Aurora dress 😉 Shop:http://t.co/cMNYgVqC,"
Less than an hour after the tweet – and after hundreds of angry responses flooded Twitter – Celeb Boutique removed the offensive tweet and posted a 5-tweet apology. The retailer also pinned the blame on its non-U.S.-based public relations team.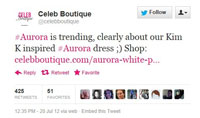 So what lessons can be learned from Celeb Boutique's social media faux pas?
If something tragic is trending like #Aurora on Twitter you should, according to Debra Ellis, founder of Debra Ellis Consulting, do one of two things: "Only offer your condolences or keep your mouth shut.
The first step in making sure a Twitter fiasco like Celeb Boutique's doesn't happen to your company is to have a social media strategy in place even before you go ahead and create that Twitter, Facebook or LinkedIn account.
"You need to have something in place that specifies what to do if anything tragic occurs or if anything like that is trending," Ellis said.
Whether or not a retailer outsources its social media, its marketing and social media teams need to be in communication, said Susan Hanshaw, CEO of social media firm Inner Architect.
"You need to have constant communication with your social media team," Hanshaw said. "Everyone needs to work together as a team."
Liz Kislik, president of consultancy Liz Kislik Associates, said retailers need to have social media disaster recovery plans in place, as opposed to trying to exert damage control on the fly after the fact.
"There should be a process of checking what trending tweets are and there's a due diligence required," Kislik said. "A company or agency working on behalf of a company has to know what the main stories in the news are."
Hanshaw said Celeb Boutique did show its human side by quickly coming out with an apology.
"The public forgives and forgets, especially if the apology is made in warm and human way," Hanshaw said. "Apologizing and acknowledging mistake as soon and quick as possible can make you look good. There may be some damage at the moment that you make the mistake, but if you are quick to apologize and acknowledge, people will forget and you can move on."
But Kislik said Celeb Boutique's lengthy apology wasn't executed properly because it didn't contain the #Aurora hashtag. Without that, Kislik said, no one is going to see the apology.
"What you need is to tweet the apology with the hashtag and insert a link to a lengthy apology," Kislik said. "That way it's easier to encourage others to retweet the apology.
Kislik added that Celeb Boutique needs keep reposting the apology, and keep linking it to a letter, "because the noise is so loud."
And if celeb Boutique is lucky, the noise will only last a few days, Ellis said.
"Things like this that end up on Twitter have a very short life," Ellis said. "I would say the longest these things stay on Twitter is about three days."