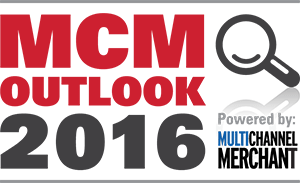 Rumors of catalog's demise had been greatly exaggerated. Yes, catalog circulation dropped at the end of the last decade, as did page counts, as did the number of catalog titles. But catalogs are still here, and they have taken on a new role as a marketing driver.
That is what I reminded attendees of the NEMOA directXchange conference last weer during my session last week.
In fact, catalogs are becoming hip again. How do we know this? Because pureplay giant Wayfair just launched its first-ever catalog earlier this month. And they make the work behind the catalog sounds so cool, too: Wayfair's team of buyers and editors created the new home catalog based on proprietary analytics technology developed by Wayfair's 450 engineers and data scientists. It's powered by quantitative and algorithm based insights.
And our numbers from the 2016 MCM Outlook back that up as well. The results I sharing with the directXchange audience are broken down to highlight the 280 respondents who took the survey in January and February AND indicated their company has a catalog.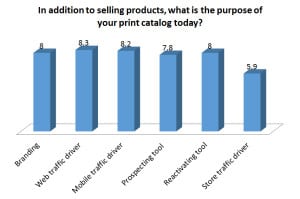 We ask the same question every year: In addition to selling products, what is the purpose of your print catalog today? These answers are on a scale of 1-to-10, with 10 being most important.
The second bar from the left on the chart to the right (click to enlarge it) shows that Web Traffic Driver comes in at an 8.3. Who would have thought this just a few years ago? Merchants with a catalog are doing a much better job at using their catalog to drive the customer or prospect to the ecommerce site.
But here's an interesting stat that I didn't include in the slide deck: 75% of survey respondents said they do NOT have an order form and an envelope in their catalog.
By the way, this is not an endorsement to get rid of your order forms and envelopes. If your audience uses them, and it uses them faithfully, do NOT get rid of them! I was talking with someone this morning from Vermont Country Store. She told me they tested catalogs WITHOUT order forms, and saw how important order forms were to their shoppers.
[RELATED: Catalogs: An Engaging Sales Driver
Mobile traffic driver was right behind web at an 8.2. And when you take a look at this past holiday season, and the ever-growing percentage of shoppers who are using smartphones to make a transaction, you can see those efforts are working.
The biggest lesson here: If your website is not mobile-friendly, you're going to lose a potential sale. Whether you use responsive design or adaptive design or a dedicated mobile site, your site needs to be easily accessible for the smartphone shopper.
Branding, prospecting, reactivation – their importance all, of course, make sense, as the catalog has always been about these three tactics.
The biggest surprise for me is that bar on the right. Store traffic driver. It got a 5.9 out of 10. We know that the department stores, the pharmacies, and the big box formats do weekly FSIs, but it doesn't mean their customers are getting them in the mail. And with so many catalogers having stores, I'm surprised more aren't taking advantage and including their customer's local store location somewhere, at the least, on the label.