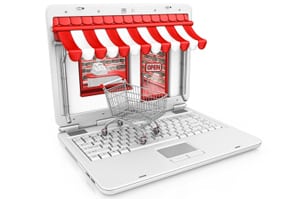 In the world of retail today, many merchants believe their digital strategy is the "silver bullet." They are focused on their ability to master customer relationships by integrating and maximizing the power of each channel through which they reach customers – from physical stores to online to mobile to social and beyond. As they work to find exactly the right mix, the ability to deliver a seamless customer experience across mediums is key.
According to a recent A.C. Nielson survey, shoppers have concrete reasons for buying in "brick and mortar" stores rather than online. The most significant of these reasons, touted by 58% of those polled, is their ability to physically evaluate a product before purchasing. People still want to see, touch and feel products, and do so with others. Only a brick and mortar store can deliver that full experience – or can it?
As the line between the virtual and real world continues to blur, new possibilities to enhance both will present themselves. And, consumers will continue to expect more memorable, enjoyable experiences regardless of the medium. Retailers who are able to successfully integrate offline, online and mobile experiences to deliver a powerful in-store experience across mediums will continue to prosper.
New technologies and approaches are working hard at enabling online retailers to more successfully mimic the real store feel to drive brand loyalty and boost sales. Here are three tips merchants can leverage to deliver more successful in-store experiences on the web in today's market:
Allow Customers to "Physically" Evaluate Product
For some products there is no substitute for seeing, trying on and/or holding the real thing. Yet, there are some effective strategies in the world of ecommerce that will alleviate customer's questions by allowing them to virtually pick-up, spin and evaluate products as if they were holding them in-person.
Smith Optics, for example, is using 360° product photography to significantly enhance the online customer experience by allowing customers to manipulate images of sunglasses, prescription eyewear, goggles and helmets on the site to see multiple angles of the products.
This ability to take a much closer look at what they are interested in purchasing makes customers more comfortable about their buying decisions and mimics an "in-store" experience online.
Make Mobile Experiences Interactive
Mobile shopping sites and apps are bringing even greater value to brick-and-mortar retail destinations. Smart companies are finding ways to use mobile to augment the online experience as well. Stores like Target have created apps to make in-store shopping a smoother experience, while also offering daily deals and online purchasing options directly from mobile devices.
Other online merchants, including Dooney & Bourke, Cache and MakeMeHeal.com, are using mobile platforms to build mobile sites that precisely mirror their online websites, providing all of the features and functionality – including reviews, social tools and rich media features- customers need to make educated, confident buying decisions.
Capitalize on the Importance of Online Reviews
Product and service reviews and ratings have been around for a while, yet not all online retailers are taking advantage of this unique and important method for differentiating the online experience for their customers.
Online dispute resolution service PeopleClaim recently compiled statistics on the importance of online reviews from a number of reputable sources that clearly outline the importance of including reviews on an ecommerce site.
For example – 71% of consumers say reviews make them more comfortable that they are buying the right product/service online; 63% say they are more likely to purchase a product from a site if it has product ratings and reviews and sites with customer reviews see an average 74% increase in product conversion.
Diapers.com is a great example of this. After implementing a reviews program on its site, the company raised its conversion rate by 14%. Likewise, visitors to OnlineShoes.com's product pages who click into consumer reviews are more than twice as likely as non-clickers to buy. Simply put, people care about what others think about the products they're buying. An online environment is the ideal place to provide this important information.