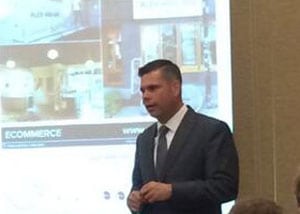 Alex and Ani, best known for its expandable charm bracelets and other jewelry pieces that promote positive energy, has quickly become a household name among young women. And its growth continues to move at a rapid pace.
Executives from Alex and Ani, spoke last week at Operations Summit about its rise to the top and the trials it has faced along the way. David Medeiros, senior vice president of operations, spoke candidly about the company's growth.
While the company officially launched in 2004, in 2009, the company opened its first bricks-and-mortar store in Rhode Island and began the brand, according to the presentation. Revenue was $2.2 million in 2009. In 2012, the company saw a spike in revenue to $80.5 million.
Medeiros said new products are introduced a few times a month and currently the company boasts an estimated 3,000 SKUS. Medeiros said their growth has the company in search for a new distribution center.
Medeiros spoke about issues related to not having a call center until last year, the 2013 holiday season, and being over capacity in its distribution center.
"We're literally completely filled, if we get any bigger it's because we've moved West," said Medeiros, referring to the addition of a second distribution center.
In 2014, the company forecasts $351.1 million in revenue. For 2013, the company made $230.1 million.
Alex and Ani has four branded channels currently. The channels are B2B including shops within shops, international wholesale, bricks-and-mortar locations throughout the Northeast, and ecommerce.
Aside from a new distribution center, the company plans a new IT system overhaul. The company also plans to launch new products related to apparel, handbags, men's products including cufflinks and rubber expandable bracelets.
Total sales for Alex and Ani's ecommerce channel in 2013 was $31,160,343. In 2012, the channel saw revenue of $7,525,052.
For its B2B channel, Alex and Ani generated revenue of $230, 109,687, a 186% growth over 2012 of $80,539,802.