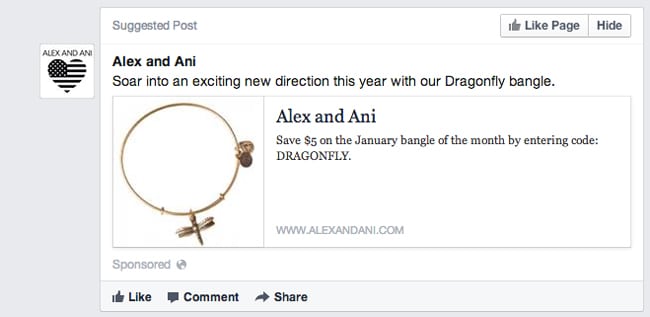 Eco-friendly jewelry retailer Alex and Ani saw an increase in ROI by 80% for Facebook ads when it joined forces with eBay Enterprises and advanced technology platform Kenshoo Social, according to a case study of Kenshoo Social.
The challenge for Alex and Ani began in 2013, when it focused and refined their Facebook advertising efforts. Alex and Ani turned to eBay Enterprise to help them drive sales and achieve a higher ROI through its Facebook ads.
With the help of eBay Enterprise, Alex and Ani then turned to Kenshoo Social to run a test to automate the creation, management and optimization of highly-targeted social marketing campaigns.
Ryan Bonifacino, president of digital strategy for Alex and Ani, said in the case study that it was important to not only engage existing customers via Facebook ads, but also tap into its new audiences.
Ebay Enterprises supervisor of paid search and delivery operations, Tara Siegal knew it was crucial to take advantage of more sophisticated targeting features offered through Kenshoo Social and Facebook.
By leveraging custom audiences, the team was able to find the brand's offline audiences among people who were on Facebook. They then took it a step further and layered on Lookalike Audiences – therefore combing the information on Alex and Ani's existing customers with Facebook data ad demographics, location and interests.
This resulted in Alex and Ani reaching a new audience that shared commonalities as the retailer's existing customers.
Additionally, according to the case study, Siegal and the team utilized Unpublished Page Post Ads to create customized messages for specific target audiences.
The advantage of this ad is that these types of posts are used solely for advertising purposes and not published on the brand's official Facebook page, allowing the jewelry retailer to maintain a streamlined voice on its page.
Using Kenshoo Social's Demand-Driven Campaigns, the eBay Enterprise team could automatically create and manage product-specific advertising on Facebook based on the company's product feed.
This ad creation enabled product-specific ads to launch quickly, while prioritizing top-performing products based on demand and performance signals – both improving performance and better optimizing spend.
Alex and Ani immediately began to see a positive performance from its Facebook ads. The performance continued to see excellent results through peak and the end-of-year shopping season.
From Thanksgiving and Cyber Monday, Facebook ads drove a staggering $1.6 million dollars in revenue for the eco-friendly brand. On Thanksgiving alone, Facebook ads generated more revenue than the retailer's paid search campaigns through Google with 73.14% higher return on ad spend on Facebook.
On one peak day, Alex and Ani drove more revenue through Facebook than during the previous year entirely. The biggest challenge for Alex and Ani was keeping up with the pace of the high demand.
In comparing performance six months before Alex and Ani began using Kenshoo Social and six months after, both Alex and Ani and eBay enterprise saw a significant gain in performance. Aside from the 80% ROI increase, the company saw a 4,388% boost in revenue.
The average order value rose from approximately $14 to over $75 – an increase of 434%. These gains are attributed to the adoption of more sophisticated and relevant targeting recommended by eBay Enterprise and the ability to efficiently scale afforded by the Kenshoo Social platform.