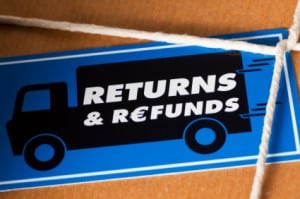 It might not sit high on the hierarchy of important things to tackle when it comes to all things ecommerce, but with 63% of consumers viewing the returns policy before making a purchase, merchant's better start polishing up their returns plan.
Multichannel Merchant asked Melissa O'Keefe, senior director of ecommerce and marking at Innotrac, to discuss some of the best practices when it comes to developing a returns police and in an email she said it should all come down to customer ease.
"The most important thing with a returns policy is to make it easy on your customers," O'Keefe said.
"It seems counterintuitive to some, who believe that because returns are costly they should be avoided. But that logic only works if you consider returns from the perspective of a single transaction," she said.
O'Keefe said since 63% of consumers view a return policy before making a purchase, "You don't want to jeopardize future purchases of a potentially valuable repeat customer because a single purchase didn't work out." Also, if the returns policy or process is not user friendly, the power of an unpopular recommendation could come back to haunt you, she said.
"An unfriendly returns policy damages the likelihood that consumers will recommend a brand," O'Keefe said.
When thinking about, creating or rewriting your returns policy, O'Keefe said, merchants need to also think about visibility. According to O'Keefe, "not making your policy known upfront has a negative impact on conversion rates."
The best places to put the policy, she said, are on your ecommerce homepage and prominently displayed on the pack slip.
"Making a return easy on your customer is a way to turn a potentially negative experience, a product which a consumer cannot use and must send back, into a positive experience," she said.
Another way you can help boost customer engagement with returns is to make them free. "We found that 12% of retailers in our most recent study provide free returns online," O'Keefe said.
But free returns are not the only option. Merchants should focus on making the overall returns process simple and stress free for the shopper. "Include the return shipping label right on your pack slip or make it easy to print online. In our SmartHub studies we have found 28% of retailers provide return shipping labels in the package," O'Keefe said.
One a return has been made and finalized the goal for every merchant should now be to get that item back in the inventory as soon as possible. This is why the timing of a return is critical, according to Kyle Magolan, regional director of operations at Innotrac.
So how can you ensure a quick turnover when it comes to returned inventory? Here are a few tips form Magolan:
Merchants can use simple product packaging to allow quick access during the refurbishment and restocking process.
Merchants can provide accurate forecasts to the fulfillment center to ensure proper staffing levels and to shrink lead processing times.
To streamline the put away process, merchants can utilize a centralized returns active area rather than consolidating returns items throughout the pick module, thus reducing travel time. Warehouse management logic would then direct all future demand allocations within the returns area first in order to follow true first in, first out rules.