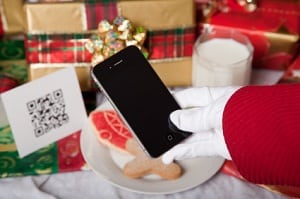 With the holiday season just around the corner, consumers are ready to shop online for gifts and are turning to their mobile devices, according to a survey by the National Retail Federation.
According to the survey, 56% of consumers plan to shop online, up from 51.5% last year. The survey also found that the average person plans to do 44.4% of their shopping online.
A majority of smartphone users (55.7%) said they will use their device in some fashion this holiday season, up from 53.8% last year.
Of smartphone users, nearly 36% said they will research products/prices and nearly one-quarter (23.9%) will redeem coupons; 19.1% said they will make purchases on their device.
Almost two-thirds (63.2%) of tablet owners said they will use their device to research and purchase holiday items, unchanged from 2013. Nearly half of them will research products on their tablets and one-third will purchase items.
One-quarter of shoppers said easy-to-use mobile websites were an important factor in their decision to shop with a specific retailer. Free shipping and shipping promotions are also important factors, according to 30.3% of shoppers.
This year, the average person celebrating Christmas, Kwanza and/or Hanukah is projected to spend t an average of $804.42, an increase of 5% from last year ($767.27).
Shoppers are beginning their holiday shopping early this year, with 40.4% saying they plan to begin before Halloween. About the same number of respondents (40.9%) said they would start shopping in November, up slightly from 38.8% last year; 15.5% said they would begin in mid-December, flat from 2013 (16%).
When asked why they begin holiday shopping as early as September, most respondents said it helps them spread out the spending. More than one-quarter (27.3%) said the desire to get specific items drives them to shop early, while 44.7% said they shop early because of deals and promotions.