For accessories brand Alex and Ani, exclusive personalized content was the way to go when it recently launched its mobile app, designed by Prolific Interactive.
Within the highly visual app, there are features and functionalities like The Daily Scroll, which provides exclusive content each day. Another feature is the Moonscope, which provides a daily reading based on the trajectory of the moon through each of the 12 zodiac constellations.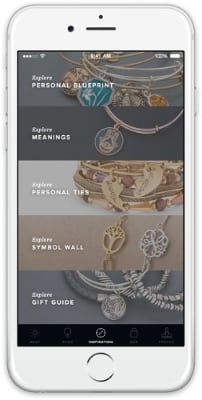 Ryan Bonifacino, Chief Marketing Officer and Senior Vice President of Digital for Alex and Ani, said the mobile app helps the brand increase mobile commerce while giving people a reason to come back every day with tons of exclusive content.
The app also features the Inspiration Engine, with exclusive content that allows consumers to learn about themselves. Based on the content consumed and the interactions, it recommends products and gifts.
It also includes the Personal Blueprint, which allows consumers to input their name and birthday, revealingtheir zodiac sign, birth tree and flower. As with the other app features, it allows Alex and Ani to provide consumers with a personalized shopping experience incorporating products around the information they've provided.
"We find a lot of people come back (to the app) for reasons other than shopping," said Bonifacino. "We're at 50% to 60% year-to-date on mobile in terms of traffic to AlexandAni.com." iPhones represent more than half of the brand's mobile traffic, and the Apple Store featured it as as one of the "Best New Apps."
Bonifacino said blending ecommerce with content on the mobile device is absolutely critical.
"The last thing you want to do is put out a mobile app that mirrors your website business," said Bonifacino. "It had to touch all of our sales channels. We put a lot of work into it, over a year of strategy, design and testing."
Alex and Ani is celebrating the brand's first app by supporting lifesaving research through the Breast Cancer Research Foundation. With every download in October, the company will donate $1 to the cause, with a maximum donation of $50,000.