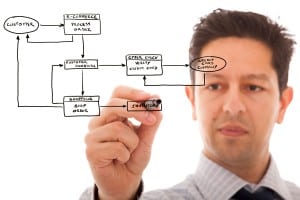 Back before the web, when customers were required to actually travel to a physical location in order to complete a purchase, retailers could craft an in-person sales experience, one that merchandised the store with the newest products and biggest sales.
With a shiny showroom, friendly and knowledgeable sales staff, and a rapid checkout, most retailers could build a steady reputation and keep customers returning.  But with the advent of the internet, new technologies spawned additional options for shoppers, and subsequently a new set of demands.
While retailers can appeal to those shifting demands using a wide range of features, one common goal remains essential to fostering a positive user experience: an ecommerce site that provides its web and mobile customers with the same great shopping experience afforded to those that buy in a brick-and-mortar location.
In essence, a positive user experience in the era of tablets and smartphones requires the same core components that have always factored into the formula for customer satisfaction—appealing aesthetics, comprehensive product information and prompt fulfillment.
Shine the Showroom
In the physical world, a cramped, dingy store with poor layout would never garner great sales or repeat business, it would be more likely to turn customers away.  The same remains true for customers visiting a retail location through a web or mobile device.  Viewing an ecommerce site built to the specifications of a computer monitor will feel cramped when compressed to the confines of a smartphone.
The newest technologies available in responsive design correct the issue by adjusting the layout of the website based on the device being used.  How the site is structured across these devices will determine how easily a customer can navigate through a retailer's product selection.
Special sales and promotions should receive prominent placement in the most heavily trafficked areas of the site, just as a sale would be advertised in high-traffic areas of a physical retail location.
The Website IS Your Sales Staff
A great sales clerk will not only demonstrate proficiency in product knowledge, but he or she will offer insights that inspire additional purchases.  Competing ecommerce sites should also offer shoppers that same level of customer service.
While product images, videos, detailed descriptions and customer reviews answer the most basic questions, they only offer a unilateral form of communication. To truly engage online shoppers, a site must serve as the conduit for interaction, whether through live chats with a representative or the retailer's integrated social media networks.
Like a great sales team, an effective ecommerce site will add value to the online shopping experience by suggesting associated or packaged items.  In this way, an ecommerce or M-Commerce site will act as a great sales team would—readily answering questions and up-selling more products.
Rapid Checkout
No customer likes to wait in a long line, so it stands to reason that they have an equal distaste for long fulfillment times on web and mobile orders.  An estimated 38% of shoppers reported that they would abandon their shopping cart if their delivery time exceeded one week, according to data by comScore and Entrepreneur magazine.
Shipping cost ranks as an even greater concern for consumers when shopping online, with 44% of respondents reporting that they would abandon a cart due to high shipping rates.  Through advanced fulfillment mechanisms such as in-store pickup, ship-from-store and other omnichannel shipping technologies, retailers can remedy customer concerns over cost and time.
As technology fosters new ways to satisfy both web and mobile shoppers, calculating the formula for success can seem like a moving target.  In order to adapt, retailers must ultimately adhere to the same virtues that have always helped businesses succeed.  Whether visiting a store in-person or online, customers expect impressive aesthetics, impeccable service and instantaneous gratification.  Your great ecommerce site will do just that.
Ian Goldman is CEO of Celerant Technology Corp.