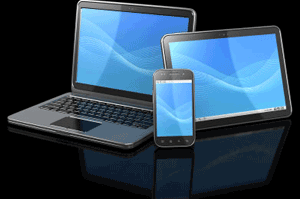 There are data points that can encourage you to test or try something new, and then there are data points so compelling you will lose sales if you ignore them. Let's talk about one of those that should make you print this article and bring it to your next planning meeting.
According to a Google/Ipsos report, 85% of consumers will start shopping on one device and finish on another. I'll rephrase that stat… Nearly everyone will use more than one device to shop and complete a purchase.
Your marketing plan should not only proactively anticipate this buying behavior by marketing to the multi-device customer, but also must provide accessibility and convenience to today's gadget and gizmo powered consumer.
The study, thankfully, went a step further by asking consumers how they transfer the shopping process and transmit related product details across devices. A few consumers (16%) synch information to an online service. I've used Evernote and Dropbox to stow away links and product manuals to review later or in a brick-and-mortar store. But, considering how "plugged-in" consumers are, their processes for storing and referencing this information are surprisingly manual. This is especially true the closer the customer is to actually submitting an order.
Thirty-two percent of consumers will conduct a search on one device and complete the purchase on another. Slightly more, 34%, will navigate directly back to the destination. This could result in you losing the sale. Think of how many opportunities there are for the consumer to forget to go back to your site or to not remember what they were originally shopping for. Additionally, this could open the door for your customer to comparison shop on Amazon or another competitor's site.
Stepping further into the purchase path to a product page, shopping cart or checkout process, things get even clunkier. Nearly half of consumers (45%) will send themselves an email, save a bookmark or use the shopping cart as a way to pause their shopping. Copy a link, go to your inbox, create a new message, paste the link, send, revisit your inbox, open the email, click on the link and then you can start shopping again. The process is rather tedious and annoying, with multiple points at which you could lose the sale.
How can we make this need to switch devices mid-shopping easier for the customer while driving sales?
Begin at the end of your checkout process. Review increases in cart abandonment rates for the past year as well as larger numbers of products being carted. These are indicators your customers are using your shopping cart as a wish list or perhaps an in-store shopping list, rather than demonstrating intent to complete the order online.
Introducing a wish list feature helps customers store products until they are ready to order rather than relying on the shopping cart. This dedicated service provides a detailed touchstone for the customer to revisit without having to start their search at square one. If you don't have the resources to launch a full wish list, a less complex solution could be to include a link that will "email my cart." This provides you with the opportunity to track engagement within triggered messages and potentially provide the customer with an incentive to close the sale. Even simpler would be to offer a "print my cart" option to give the shopper all the information they need to shop in your store, or to easily remember everything they were interested in purchasing.
Facilitating this transfer of information from device to device will make the shopping and purchase process less disconnected and laborious for your customer. Review your marketing processes and include support for consumers to shop – and buy – using multiple devices. Providing multiple touch points to make the shopping experience unified and seamless, regardless of device used, could save the sale.
Jim Davidson is Manager of Marketing Research for Bronto Software (www.bronto.com). Jim can be contacted at [email protected].