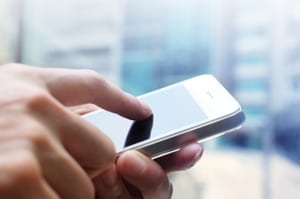 Mobile commerce has arrived. A surge in tablet adoption – with one-third of American consumers expected to own one by 2015 – and the near ubiquity of smartphones has created a tipping point for mobile retail. By the end of 2017, mobile retail sales in the U.S. will reach $31B, up from $8B this year.
Retailers know their customers want to shop on their phones and tablets, and most have made great strides in offering mobile-optimized websites and apps to facilitate mobile commerce. By listening to their customers, many retailers now offer engaging mobile shopping experiences that make it easy to browse and buy.
However, most retailers still have a lot of work to do when it comes to supporting mobile shoppers after they make purchases. As more consumers use mobile devices to research and buy, it's only natural they'll want to use the same devices to check on orders, track shipments, update credit card info, check loyalty points, change delivery options, make returns, and other post-sales tasks. In fact, mobile devices are well suited to these types of post-purchase tasks (Wouldn't it be great to get some of these annoying little tasks done during downtime waiting for a bus, for example?). But the mobile experience still lags in key areas.
According to OpinionLab's Customer Feedback Index (CFI), retailers do a great job of serving mobile and tablet shoppers as they research, browse and comparison shop – and they are rapidly getting better when it comes to supporting purchases. However, common post-purchase tasks significantly under-index for mobile shoppers. The mobile experience scores a paltry 300 (out of 1000) for shoppers who are checking order status (versus a CFI score of 551 for shoppers who are using their mobile device to browse and comparison shop).
Retailers must address these low scores for the post-purchase mobile experience, or risk losing out on a tremendous opportunity to better serve customers both on the go and in the store. The next area of innovation in omnichannel retail is using mobile to help support in-store customers after the sale. Right now, most retailers are focused on using mobile to empower the store shopper with more information to stimulate buying behavior. But look for retailers to soon introduce new ways for customers to use their mobile devices to augment in-store customer service and returns processes.
To get a jump on the competition, retailers should start improving post-sales support offerings on their mobile-optimized commerce sites and apps now. Here are three tips to optimize the after-checkout mobile shopping experience.
Establish the right priorities. The first step in optimizing the post-sales mobile experience is to understand exactly what your customers want to do. Use opt-in mobile feedback forms to ask customers what type of post-sales tasks they're most interested in completing (but never interrupt their mobile experience with intrusive pop-up surveys). Analyze existing data to see where customers have 'pain points'. You don't want to optimize blindly, adding support for multiple tasks your customers may not even want. If your customers prioritize tracking shipments, checking loyalty points, and being able to add items to a completed order, add those functionalities first. On the other hand, if you find out customers aren't that interested in making returns on their mobile phones – since they'll likely have to access a desktop to print return labels anyway – then adding that functionality can wait.
Measure customer effort. Few people enjoy handling post-sales tasks. Tracking orders, changing credit card info, following up returns, or looking for a receipt are hardly aren't exactly fun. As a retailer, your job is to make post-sales tasks as frictionless as possible. And to find out what annoys customers the most, measure how much effort it takes them to complete tasks. Use analytics to measure how long it takes customers to complete a task, and then use open feedback loops to find out if anything was frustrating about the process. Also, use opt-in feedback forms to ask customers how to improve the post-sales experience; if a task was painful to complete, you want to know so you can fix it. While you can't make boring tasks fun, you can make them less time consuming and easier to accomplish.
Learn from the e-commerce team. When it comes to optimizing the post-sales mobile commerce experience, your colleagues on the e-commerce team have lots of insights to share. After all, they've spent over a decade improving the online shopping experience, and know what type of post-sales support customers expect on the web. Many of the support services your company already offers online can be translated to the mobile realm with just a few small tweaks. What's more, the e-commerce team knows all about customer pain points, and can share what's worked to make the post-sales experience smoother and less frustrating for customers. Don't boldly go where no one has gone before; instead, learn from the pros.
Mobile commerce is the future, and customers will soon expect to do far more than purchase on their phones and tablets. They want to browse, research, buy, and follow-up on purchases all on one device. Make sure your mobile commerce offering not only makes shopping fun, but also provides simple, useful post-sales support.