Even with the rise of IP-based messaging apps such as iMessage, WhatsApp and Just.me, SMS remains ubiquitous largely because of its interoperability. It doesn't suffer from the device and operating system fragmentation that beset the messaging apps. So, even though the IP-based apps are expected to catch up with their older cousin this year, SMS is still expected to grow by a yearly 5% CAGR until 2016.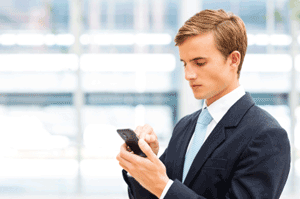 Online retailers have ample opportunity to harness the power of SMS, driving customers to their mobile sites and boosting sales. SMS' simplicity cuts across cultures and age groups, making its reach unmatched so far by anything available on mobile.
According to Portio Research, 8.6 trillion texts are sent globally each year. However, because mobile is such a personal medium – 48% of consumers in the 18-to-24 bracket and 47% of those in the 25-to-34 group say text conversations are as meaningful as spoken ones – consumers are less tolerant of irrelevant or excessive messages on these devices than on desktop.
This has lead most marketers to be concerned about being perceived as SMS spammers, with some recommending writing off SMS all together in favor of mobile apps' push notifications. The issue with taking this approach is the loss of access to customers with feature phones – which are expected to account for half of all mobile phones shipped this year.
Measurement: The key to getting mobile SMS right
It's possible to use SMS correctly and it all comes down to measurement. By analyzing the data collected through opt-in customer interactions, marketers are able to get a clear picture of each customer's wants and needs for maximum relevance.
Getting mobile SMS marketing right means formulating an action analytics plan specific to the medium. While metrics such as page views, banner clicks and impressions can measure desktop performance, they won't tell an online retailer marketing through SMS which messages are the ones driving conversions.
Personalization is key and many mobile marketers are improving their customer profiles through analytics tools like A/B split tests – deploying two versions of one message to see which leads to higher ROI, i.e., sales. By utilizing metrics such as clicks that result in conversions such as registrations, sales or social shares to link specific message copy to certain desired outcomes and goals, marketers are able to get an exact picture of what kind of messaging works and which doesn't.
Once the retailer has identified the winning split test messages, it sends them out to wider audience segments. Then, in order to ensure it hasn't wasted even one opportunity for another conversion, it retargets customers who didn't convert, perhaps with a more tempting offer or a more urgent call to action.
Today's marketplace is crowded, and mobile consumers are bombarded with offers from all sides. Action analytics techniques can help online retailers harness the immediacy of SMS to stand out from the pack by giving them a clear picture of individual customers' preferences – and helping them get maximum ROI by making each message they send more relevant than the last.
Brendan O'Kane is CEO at OtherLevels.