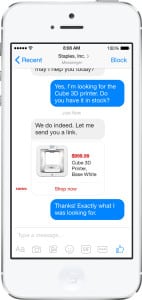 Mark Zuckerberg launched Facebook Messenger's chatbot revolution Monday at the Facebook F8 conference with the launch of bots for the Messenger Platform, and ecommerce merchants and platforms have already hopped on board.
Facebook said its bots can provide anything from automated subscription content like weather and traffic updates, to customized communications like receipts, shipping notifications, and live automated messages all by interacting directly with the people who want to get them.
And for merchants, that means the opportunity to use it as an enhanced mobile customer experience, service, and communications tool.
1-800-FLOWERS.COM and Staples announced this week that they will use Facebook Messenger as a customer support tool. LivePerson, and Aspect Software said they will offer Facebook Messenger integration, and Shopify became the first ecommerce platform to offer integration with the new platform.
And before Zuckerberg's announcement, Newegg announced it, too, would use Facebook Messenger as a customer experience tool.
Facebook says that every month, over 900 million people around the world communicate with friends, families and over 50 million businesses on Messenger. It's the second most popular app on iOS, and was the fastest growing app in the U.S. in 2015.
1-800-FLOWERS.COM will blend its bot and live customer service support on Messenger to serve as "gift concierges" and answer questions, make gifting suggestions, process orders, send shipping updates, and provide an array of other important information such as gift reminders.
"Always keeping our finger on the pulse of new and emerging technologies, we are continuously introducing new innovations to help our customers deliver a smile to the important people in their lives," said Chris McCann, President, 1-800-FLOWERS.COM. "Our customer experience is our best product and we are excited to team with Facebook to offer bots for Messenger, ultimately taking our customer experience to a new level."
After signing up to connect on Messenger, m.Staples.com customers will have the ability to chat with sales specialists and customer service to get shopping assistance and post-sales support, with quick responses to their questions. Customers would also be able to opt-in to receive personalized updates, like order confirmation and shipment notifications, directly in Messenger. The features are only available on Staples' mobile website to begin with, but will be rolled out to tablet and desktop users in the coming months.
"Staples customers are increasingly turning to Messenger to interact with our brand, and by adding these capabilities, we're making it easier for them to connect with us and keep tabs on their order whenever and wherever they want," said Faisal Masud, executive vice president, global ecommerce of Staples, Inc. "We see Messenger as another extension of our omnichannel offering, letting businesses leverage the power of our ecommerce, social media and customer service capabilities to have the best shopping experience possible."
With Staples on Messenger, all customers' interactions and order information will be in one place, and they can ask questions or make necessary changes with their interactions being handled by Staples' chat team. Staples' eCommerce team has enabled the Messenger Platform integration with its mobile website in partnership with Powerfront, a cloud-based customer engagement platform that enables brands to target and engage customers on their website for revenue generation.
LivePerson said it will seamlessly connect a brand's Facebook Messenger presence to the leading security, scalability and intelligence of the LiveEngage platform, ensuring that the brand and consumer relationship is as consistent and meaningful as possible.
Robert LoCascio, Founder and CEO of LivePerson, stressed that while the technology can make a customer's life easier, it still needs the human element to be an effective customer engagement tool.
"While developments in AI solutions represent a huge advancement for the customer service industry, they have not eliminated the need for a human connection," LoCascio said. "In fact, without a fine balance and partnership between automated and human-led assistance, messaging could lead to the same frustrating experiences caused by the dreaded IVR system."
Over the last two years, Shopify has seen messaging apps grow in popularity and start to outpace social networks when it comes to where consumers are spending their time. With an expanding developer ecosystem, messaging apps are reaching far beyond simple messaging to connect customers privately and directly with their favorite businesses.
Brandon Chu, Senior Product Manager at Shopify, said this integration gives Shopify merchants a head start in leveraging messaging apps to run and grow their businesses.
"Messaging apps are enabling us to rekindle the conversations we are used to having in person with retail businesses, and recapture some of the lost intimacy that comes with shopping online," Chu said. "Our decision to integrate with Messenger and build commerce bots, is designed to help merchants develop deeper relationships with their customers, and give them an opportunity to reinforce their brand's personality."
New research from Aspect Software shows burgeoning consumer demand for messaging-based brand interactions. The Aspect Consumer Experience Index found that nearly 40% of consumers would rather use messaging apps like Facebook Messenger for customer service versus a phone call.
Tim Parry is Multichannel Merchant's Managing Editor, and the lead programmer for Growing Global.