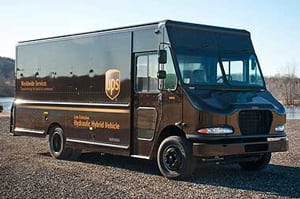 UPS has begun negotiating with major retail shippers about eliminating discounts for large parcels during this year's peak holiday season, in an effort to deal with increased costs caused by packages its network was not designed to handle efficiently, shipping consultants have told Multichannel Merchant.
For retailers this could mean either significantly increased shipping costs or elimination of the bulky items from contract agreements, which means finding another way to get them delivered. UPS is seeking these alterations mid-contract, and some consultants are advising them to say no.
One expert also noted that in some instances the request is being made of shippers who don't face huge volume spikes in November and December, and that it's coming on short notice considering peak operating plans need to be finalized in September.
The change affects packages that measure more than 130 inches in combined length plus girth, which without the discount would trigger a flat fee of $57.50 and get bumped up to a minimum of 90 lbs. in billable weight.
Experts said they believe this approach is what UPS signaled during earnings calls this year, about its intention to impose changes in seasonal peak pricing to offset costs related to its ecommerce business.
"Obviously any time you're talking about a cost increase, the reaction from shippers is going to be negative, especially those with a lot of volume and who have gotten used to offering free shipping as an incentive," said John Haber, president of shipping consultants Spend Management Experts. "I imagine the feedback will be negative and lots of pushback. No one wants to see these increases, especially with dimensional weight changes felt heavily during peak season."
As an illustration, with the discount a 50 lb. oversized package being sent to zone 5 via UPS costs $29.08. Without the discount, it would be assessed the $57.50 flat fee, plus the difference between a 50 lb. package and a 90 lb. zone 5 package, or $15.96, for a total of $72.46, an increase of nearly 150%. It would also result in a higher fuel surcharge, based on the total of the flat fee plus the billable amount.
"UPS approaches each customer relationship as an individual account and we strive to balance our customers' needs with UPS's desire to be properly compensated for the services we provide," a UPS spokesman said.
Thomas Andersen, a partner and vice president of supply chain services for LJM Consultants, said this move by UPS shows that "anything can be on the table."
"The dimensional weight change seemed inevitable, as companies were in the habit of packaging 70% to 80% air, and it wasn't good for anyone," Andersen said. "With this practice, it's a bit different. It's such a significant change that if (UPS) chose to do it and (FedEx) didn't follow suit, you're really vulnerable. There's a very low chance of that happening, but it could certainly come into play, and now the other guy has a competitive advantage."
Concerning DIM, Andersen said his impression from customer feedback is that UPS and FedEx have done a good job of "sticking to their guns" and not allowing a lot of concessions in order to roll out the change quickly. "Coming into peak, they're going to make much more per package in Q4 this year than last year based on these changes and practices," he said.
"None of our clients have reported (large parcel concession requests) to us but that doesn't mean it's not happening," said Rob Martinez, president and CEO of parcel management advisory firm Shipware. "Quite the contrary, UPS has been very public about putting their foot down and better managing costs and yields. It sounds like they want to retract contract incentives on their large package surcharge."
UPS CEO David Abney said during a February call with analysts that the company would implement "peak residential surcharges … on a customer segmented basis," focused on SurePost and residential packages.
"In some cases, these changes will be implemented over a multi-year period as contracts come due," Abney said. "These pricing strategies will be designed to ensure we're properly compensated for the value we provide. We will align revenue with cost, extracting the value for the investment in our network, especially during peak periods."