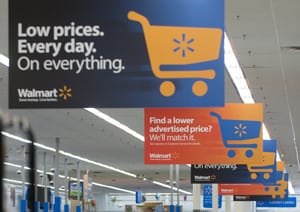 As the holiday shopping competition heats up weeks before Black Friday and the official kickoff of the season, Walmart announced it is offering free shipping on its top 100 gifts listed on its website, through Dec. 20. The company has already offered free shipping on items of $50 or more for some time.
While Target began offering unlimited free shipping for online orders as of Oct. 20, Walmart said this was not a reaction to its main discount retail rival.
"This is something that's been in the works for quite some time as we're planning for the holidays," said Walmart spokesperson Jaeme Laczkowski. "We knew it was a program we were going to roll out."
Laczkowski added the Dec. 20 end date for the free shipping promotion on the top 100 items was not the company's overall cutoff for Christmas orders. "We'll make shipping cutoffs public in the future," she said.
The free shipping offer is just one of several initiatives Walmart is launching to bolster holiday sales in a fiercely competitive environment. On Nov. 1, the company announced 90-day price rollbacks on more than 20,000 items, double the number it offers on any given day and a greater assortment than last year.
As of Nov. 3, Walmart began offering its 24-hour "cyber savers," 15 online deals normally reserved for Black Friday and Cyber Monday. This is about twice as many as it offered in 2013.
Laczkowski said "trend experts," Walmart buyers familiar with items the company sells, helped determine the list of 100 top items for the free shipping program. The company increased its overall SKU count from 6 million to 7 million items in the past year.