This is the first of a two-part series. The first part will define zone skipping and discuss the pros and cons. The second part will discuss key success factors, provide details of two multichannel merchants that successfully use zone-skipping to slash their transportation costs, and the initial steps to easily calculate if zone skipping is right for you. For more on zone-skipping be sure to attend the upcoming MULTICHANNEL MERCHANT/O+F Webinar "Zone Skipping: Is It Right for Your Company?" on Feb. 28.
Multichannel merchants are faced with rising costs and continued pressure on margins. Transportation and fulfillment/logistics costs generally represent 7%-15% of costs of goods sold or 3%-9% of revenue.
Some larger retailers have successfully used zone skipping to reduce transportation costs. Can you?
First, let's define "zone skipping." In terms of fulfillment, it's a practice whereby parcels are shipped part of the way to their destination by the shipper and then dropped at a carrier's facility or hub to complete delivery. Shippers "jump" or "skip" zones to improve delivery times and reduce costs.
As you doubtless know, parcel shipping rates are organized by zones, based on the distance between origin and the shipment's destination. Zone 2 is the closest; zone 8 is the farthest. If you're a retailer on the East Coast, a customer in the West Coast is in zone 8. To send a parcel to that customer, you could establish a zone-skip program that would break the process into two parts: 1) the line-haul leg, from the East Coast distribution center to your carrier's hub outside Los Angeles, and 2) the delivery by your carrier to your customer's address. Note: For the line-haul leg to be cost-effective, the merchant would have to have enough volume or "density" of shipments going to the West Coast. Many multichannel merchant combine store deliveries and direct-to consumer deliveries to meet this density threshold.
The following chart illustrates the advantages and disadvantages of zone skipping: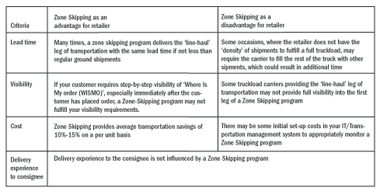 Of course, not all merchants are created equal. These criteria apply in general for most retailers. In general, a zone-skipping program is a great resource to consider when looking for a reduction in transportation cost per unit for high-zone shipments, and where visibility to the front-end or first leg of the shipment is not a must.
Jose Li is the retail industry manager for FedEx Service, and Jeff Kline is president of Collierville, TN-based Kline Management Consulting.