While the holidays are just a few months away, retailers have been making a list and checking it twice in preparation for their busiest season. Most have ordered extra inventory, started planning holiday promotions and even begun hiring additional staff to either welcome more customers in-store or fulfill more online orders. With so much preparation for heightened sales and deliveries, it is equally important that retailers prepare their customer service teams for the busiest time of year, too.
Retailers received 30% more social messages related to service questions during the 2016 holiday season, and this year, they will be receiving customer inquiries through even more digital channels. In addition to social media platforms like Twitter and Instagram, consumers are also frequently using messaging apps like Facebook Messenger and WhatsApp to connect with each other – and 9 out of 10 people want the convenience of messaging when communicating in the same way with brands as well.
While many brands use social media and digital channels to promote their products and services, they still struggle with how to communicate with customers who turn to these platforms for service, often leading to unanswered questions and mismanaged complaints. This is a huge problem for retailers that are struggling to keep loyal customers in such a highly competitive industry, as recent reports from the National Retail Federation show that 93% of shoppers said their loyalty would be affected if they didn't receive a response to negative comments. As customers migrate to social channels and messaging apps to engage brands with questions, issues and feedback, retailers must focus on providing customers an effortless experience despite an influx of holiday season interactions.
Avoid landing on your customers' naughty lists by asking yourself these questions as you prepare your digital and social customer service plan this holiday season.
Are my social and digital customer service teams ready?
Before deciding how you're going to staff your customer service team during the holidays, you must consider previous seasons. Did certain holiday promotions cause an uptick in the number of customer service requests in the previous year? How long did customers have to wait to receive service on notoriously busy days, such as Cyber Monday or the day after Christmas? Although no two years will be exactly the same, you can learn from previous seasons to improve social customer service operations and ensure customers get timely, accurate responses to their inquiries. You can then staff your service teams more appropriately on days that have high volume, which will help reduce the stress of employees and allow them to focus more on exceeding their customers' expectations.
Another way to prepare your customer service teams for the busy season is to arm them with the information they need to provide superior service quickly. For example, if winter storms are causing delivery delays for certain areas, make sure your customer service team can offer specific solutions to alleviate customer concerns quickly, such as providing individual customers with a list of nearby locations where they can pick up the item in-store. You can also empower your service teams to offer customers pre-approved extra holiday cheer like discounts and free shipping for future orders to help surprise and delight customers.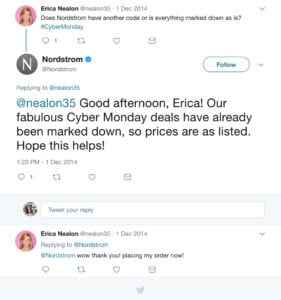 Could my customers' experience be easier?
Studies show that 67% of consumers are using companies' social media for customer service, but despite this fact, it is common for brands to respond to customers' questions on social media asking them to switch channels and call or email for assistance. While this may appear to be a simple request, for your customers, it's actually a "high effort" interaction, which can significantly tarnish their overall experience. When unhappy customers are turning to social media or messaging apps to express their issues, often the last response they want is a request to call or email another contact and repeat their information all over again.
Avoid this misstep by allowing team members to provide service directly in customers' preferred channels. With the right social customer service platform in place, customer service agents can securely collect personally identifiable information and access a customer's entire conversation history to provide a more personal resolution.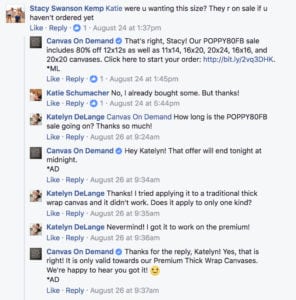 How fast can my customer service teams respond? How personal can they be?
Once you've decided on how to prepare your customer service team and what technology tools you'll use to manage social customer care, you must determine how quickly team members are expected to respond to inquiries and what type of voice they will use to represent your brand.
Regarding the expediency of responses, today's hyper-connected shoppers have high expectations for online customer care, and failing to meet those expectations during the busy holiday season can have lasting impacts on your relationships with loyal customers. Studies show that consumers are more likely to switch brands after a poor customer service experience and that the majority of customers expect brands to respond to them on social channels within an hour. To manage the high volume of holiday inquiries in a timely manner, retailers need the right solution in place to organize and delegate communications to the right customer care team representative to resolve issues efficiently and effectively.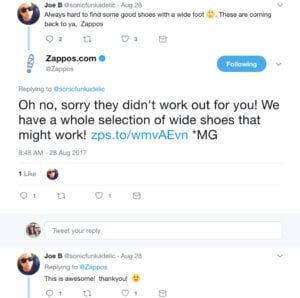 But it's not just enough to reply — retailers must create helpful and engaging experiences whenever interacting with customers, both in person and online. Amidst busy seasons and holiday rushes, brands that take the time to be human and to make casual conversation with their customers are participating in low-cost, high-impact customer engagement, which often leads to higher customer satisfaction and retention.
Now that more customers are turning to digital and social channels for customer care, retailers must ensure their teams are prepared to offer top notch customer service on these platforms – especially as they prepare for the busiest time of year. By integrating social and digital customer care teams with other operations, streamlining service so that inquiries can be addressed on one channel, and offering fast and personal responses, retailers will be able to build relationships with customers that will last well beyond the holiday season.
Anaal Patel is Vice President of Marketing for Sparkcentral