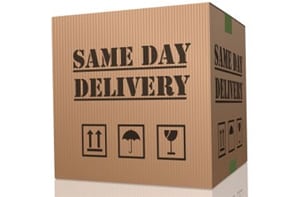 While the extent of consumer demand to have orders show up at the front door yesterday remains an open question, activity and investment around same-day delivery remains red hot. From Apple and Postmates to Amazon, Ulta, Uber and beyond, companies are betting that demand will increase rapidly.
This is the case despite the fact that most consumers still prefer free to fast. According to a recent study by comScore, commissioned by UPS, 85% of shoppers are willing to wait five days or more for their delivery if shipping is free, while 66% said they're willing wait that long when they have to pay for it.
Nevertheless, retailers are feeling relentless pressure to offer fast AND free – or at least cheaper – as Amazon continually flexes its muscles by raising the bar on consumer expectations. Last month, the company announced it would make 1 million items available for free same-day shipping to Prime members in 14 metro markets.
Among all the companies jostling to be the same-day leader, Amazon continues to be the most active. Most recently, it is reportedly taking a page from same-day delivery companies like Uber, Lyft, Kanga and Deliv by developing an app that will use crowdsourcing to enlist everyday folk for transporting goods it sells, according to the Wall Street Journal. The items would be stored in leased space at local businesses, should the initiative move ahead.
Apple has jumped into the fray by enlisting Postmates to facilitate a same-day delivery pilot program from its stores in select locations around the San Francisco Bay area – but not the city itself for now, reported TechCrunch. Uber was considered for the deal but passed over, the WSJ reported. Despite its stratospheric $50 billion valuation – roughly on par with FedEx – Uber has failed to develop a head of steam for its same-day delivery service. Launched a year ago, it has signing up just six retailers instead of the promised dozens.
But there is still some good news for Uber, which is apparently being considered as a same-day delivery vehicle for Target. That company's CEO, Brian Cornell, said at the Code conference last month that he is open to partnering with Uber, according to Re/code.
On the retail front, executives with Ulta Salon said they are partnering with Google in five selected markets to provide same-day delivery, without naming them, according to Seeking Alpha. And Neiman Marcus is tapping FedEx to deliver same-day shipping on Father's Day items in 18 markets, Luxury Daily reports.
While same-day delivery has thus far been an exclusively urban metro phenomenon, given the markets where it is being tested and the logistics involved, it will inevitably expand to smaller cities and their suburbs. Amazon, for instance, with its vast network of more than 50 fulfillment centers in the U.S., is poised to make same-day a reality in more far-flung locales.
UPS is expanding its pickup locker program, now available in Chicago, New York, Boston, San Francisco and Washington, D.C., as well as at 4,400 domestic UPS Store locations, but this is more about catering to convenience than instant gratification.
Amazon's recent decision to allow items shipped directly from merchants to be Prime eligible can also potentially expand its same-day footprint, as these goods now don't have to be routed through an Amazon fulfillment center. This activity will force others to follow suit by tapping the ever-growing array of instant delivery startups like Roadie, in addition to those listed above.