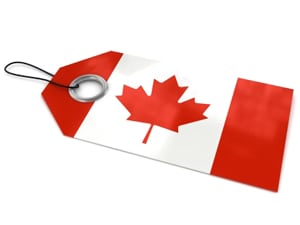 United States based retailers might want to start looking north when it comes to capturing international sales. According to a new report by Forrester, 80% of Canadian shoppers have purchased from an American or another international online retailer because they could not find the products they wanted in Canada.
In the new report, The State of Canadian Retail – 2013, it turns Canadian shoppers are finding a wide variety of product assortments, cheaper prices, and a "superior online" experience when shopping with their U.S. neighbors compared to retailers based in their own country.
Canadian shoppers, according to the report, are having difficulty tracking the products they need when shopping online in Canada. The situation, according to the report, "is so dire that 38% of Canadian online shoppers who can't find the product they are looking for online in Canada end up sourcing the product internationally."
In fact, the report found some Canadians even make a trip to American bricks-and-mortar stores to make a purchase while 17% give up and abandon the idea of making a purchase all together.
Canadian shoppers, according to the report, are finding that product prices are cheaper when they shop internationally. In fact, with 55% of all mobile phones in Canada smartphones, it has become easier to comparison shop with U.S. retailers when shopping both online and in stores, according to the report.
While it seems Canada might be an easy way to boost sales for American retailers, the report warns that Canadian shoppers don't care where they buy from, just as long as the price is right. According to the report, "U.S. and international retailers selling to the Canadian market should note that price and assortment alone will not win the hearts of Canadian online shoppers."
U.S. retailers must "optimize the experience" by allowing Canadian shoppers to pay with domestic credit cards, offer free returns, offer clear information about warranties, and provide accurate information about delivery times, according to the report.
Even more so, the report recommends that U.S. retailers even "downplay" that their product are being shipping from the U.S. "Tactics like pricing in Canadian dollars, providing local customer service numbers, and providing a Canadian return address all help build confidence," the report said.