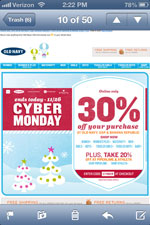 Retailer shopped: Old Navy
Device used: iPhone 4s
The email or Twitter or Facebook offer: 30% Purchase Cyber Monday Only
Overall: This was the easiest shopping experience I have ever had on a mobile device. It took all of about five minutes from the moment I clicked on the email promotion to getting an order confirmation in my inbox. The only downside was attempting to type in my credit card information in the small fields. Other than that, the mobile site almost mirrors the usability of the full site at www.oldnavy.com. The pictures and product information were very easy to find and easy on the eye. 10/10.
Landing page worked: There were no problems or technical issues using my mobile phone on this site.
The item was easy/hard to put in the cart because: The item I wanted, which was a men's sweater, was easy to place into the shopping cart because of the large graphics on the site.
I was suggested an add-on, and it was: I was not given an option for product add-ons just various shipping options.
I made the purchase, and I received an email confirmation: The email confirmation came about 30 seconds after the order was placed.
Erin Lynch is the associate editor at Multichannel Merchant. Erin can be by emailing her at erin@multichannelmerchant.com. You can also follow her on Twitter at @LynchMCM or on LinkedIn.