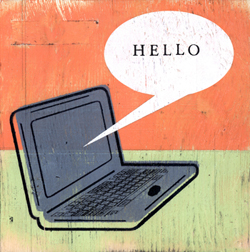 Imagine a retail location with no sales clerks available to help people who have questions or can't find products. That's the state of an estimated three out of four e-commerce Websites that don't make service agents available to chat live with customers and prospects.
And while no time is a good time to leave sales on the table, or Web page, so to speak, a recession is certainly not the time to let fence sitters leave for lack of attention.
Is click-to-chat a wise option for every merchant? No, it's usually not for those who sell low-consideration, low-margin products. (But live-chat customer service does make sense for low-margin items if the customer is a high-value customer overall, or if the contact-center representative can cross-sell or upsell during the process.)
Click-to-chat is also not wise for merchants who don't intend to put the proper resources into it.
"There are deployment best practices, and there are people best practices," says Kevin Kohn, executive vice president, marketing, for live-chat software provider LivePerson. "One of our challenges is that we can have the best technology in the world, and if the companies we market into aren't investing in [chat customer-service representatives], then the experience is not going to be good."
But for companies that do invest in the proper resources, live chat has advantages no other channel offers, he adds. For example, chat allows customers to get service anonymously, so they're often willing to communicate with a contact-center agent earlier in the process than they would via telephone.
"If they haven't made that decision yet, they might feel the questions they're asking aren't very sophisticated — or they might be coming in from another country and aren't comfortable with English," he says.
EarthLink began using click-to-chat customer service in 2001, and by 2004 the Internet service provider was using it to handle 15% of its customer contacts.
"This was really huge for us, because our chat agents handle three concurrent chats and, depending on call time, if we're handling the customer with chat as opposed to the phone, we're saving anywhere from $3 to $5 per contact," says Mike Murphy, senior manager, online support strategy, EarthLink. "A couple million chats a year for support breaks down into huge cost savings for us."
Chat is also EarthLink's highest scoring channel in terms of customer satisfaction and is comparable to other channels in terms of issue-resolution percentages, says Murphy.
A chat agent can handle 80 to 100 contacts a day, and no topic, including service-cancellation-save attempts, is outside their scope, he notes.
Chat currently accounts for about 25% of EarthLink's customer contacts, Murphy says.
Naturally, chat customer service is especially well suited for companies that serve younger demographics. Alton Martin, CEO of customer service consulting firm COPC, notes that his children, who are in college, are much more accepting of chat transactions because they do it all the time. "I've seen one of my kids with six chat windows open at once," he says.
Another advantage of chat customer service is that the agent can save the entire session and send a transcript electronically to the customer when it's over. "This is especially useful in technical support," Martin says.
He adds that chat also offers call-center management a unique ability to read the transcripts and assess how well — or not — agents are interacting with customers and prospects.
Pushing the button
Kohn warns that Web marketers should display the click-to-chat buttons only when there is someone available. "Don't promote the channel if you're not going to staff it," he says.
Kohn also stresses that merchants who make chat available to their customers should make clear what the click-to-chat button is and why it's there.
"How the channel is introduced is almost as important as the experience itself," he said. "It's almost like an ad banner, and it's amazing how much time people will spend on a banner or e-mail — and how little time they'll spend on a button introducing a channel."
For example, the button should be contextual, or relevant to where the visitor is on the site. "If they're on a service page, don't have a button saying, 'Hey, there's a great sale going on,' " he says. "You just need to think about it from the standpoint of the user experience, just like you do everything else."
Click-to-chat buttons should appear on pages where critical decisions are likely to be made or breakdowns are most likely to happen, such as throughout the checkout process, he adds.
Another chat function merchants should consider is proactive chat, in which contact-center representatives reach out via a chat window to certain prime-target Website visitors without being asked. Once certain rules are set in place, Kohn says, 20% to 25% of people who are contacted proactively will make a purchase.
But isn't popping up in people's faces when they're on the Internet disconcerting?
It depends on whether it's done right or not, says Kohn. "They'll love it if they just spent half an hour trying to configure a laptop on HP, they get a configuration error and have two choices: They've either got to start all over, or call the 800-number, which will have no visibility into what they just did.
But if a merchant layers in a proactive invitation that says: "Hey, I see you're having trouble. Would you like to connect with me so I can help you complete this?" Kohn says, "they'll jump on it."
Continue on Page 2
It's all about knowing when to reach out, he says. For example, he says, a bank may know that if someone spends more than two minutes on a certain step in an application, they're highly likely to abandon the process altogether.
"Sometimes it may be due to a legitimate interruption, like the phone rang or the baby's crying," he says. But in a lot of cases these customers are at risk because they're confused, they're having second thoughts, they're not sure what information they need or they don't understand the question.
"If I can put an agent in front of that person in one minute and 50 seconds or one minute and 45 seconds, an agent who understands where that person is in the process and can help them get over that hump, then it's a win-win for everybody involved."
That said, Kohn adds that one of the biggest mistakes companies make with proactive chat is being too aggressive with it.
"It's like if you walk into a store and a sales clerk immediately comes running up to you," he says.
The agent issue
Another important consideration for merchants employing online chat is making sure the contact-center agents have the unique qualifications the channel demands. Obviously, chat customer-service agents should be literate and have typing skills.
Foremost among those qualifications for merchants selling noncomplex products and services, according to Kohn, is that chat agents be able to multitask.
"One of the benefits of chat is you can handle multiple inquiries at the same time," he says. "We call it concurrency."
Concurrency is usually directly proportionate to the complexity of the product, Kohn says. "If it's a sophisticated product like financial services or brokerage, you'll want to make it one-to-one. If it's a retail product, you can probably do three to four concurrent chats, especially if it's a trained agent."
But it's important not to force chat representatives to attempt to handle too many queries at once, says COPC's Martin.
"I've sat down with chat agents trying to run eight different chats at once and they get overwhelmed," he says. And the time between responses is too long, which is frustrating for customers.
"I've seen companies make planning assumptions about the number of concurrent chat sessions an agent can handle that are way off the mark," Martin says. "The expected cost saves aren't there, customer frustration is much higher than they thought it was going to be, so what looked like a promising technology to take care of more people can backfire pretty fast."
Alton adds that with contact-center agents being increasingly required to interact with customers through multiple channels, the job is getting more complex.
"You need an individual in that position with more training, more education and more smarts," he says.