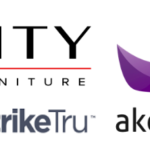 HOUSTON, Feb. 14, 2019 — City Furniture, one of the top U.S. furniture retailers, based in South Florida, has gone live with Akeneo's industry-leading product information management (PIM) system. The solution, architected and deployed by digital solutions firm StrikeTru, will help the furniture company achieve its key business goals, which include adding new stores, expanding product lineups, and improving customer experiences.
Akeneo's enterprise PIM solution was purpose-built for brands and retailers to optimize product experiences across all sales channels. StrikeTru selected Akeneo for the platform's ability to manage product data with superior efficiency and scale. StrikeTru, a leading systems integrator, helped City Furniture select and implement a PIM system that is user-friendly, secure, scalable and integrated with the company's existing ERP, DAM, and e-commerce systems.
"StrikeTru did a great job helping us modernize our IT and content management operations by implementing and customizing a PIM solution to City Furniture's unique business needs," said Juan Lopez, senior manager of digital technology at City Furniture. "We look forward to our continued partnerships with StrikeTru to explore how PIM capabilities will add firepower to our digital marketing, e-commerce, and business growth initiatives."
"The ability to centrally manage all product data, view and share aggregated data in real-time, and enrich it for cross-channel publishing is critical for today's retailers, and table-stakes for a successful e-commerce environment," said Vik Gundoju, partner at StrikeTru. "Retailers seeking a competitive advantage must invest in modern technology solutions to transform their content operations and accelerate growth across store and online channels."
About StrikeTru
StrikeTru is a data and digital solutions firm specializing in professional services. StrikeTru helps clients with data management, governance, digital transformation, and omni-channel initiatives through a range of services and solutions in data strategy, architecture, PIM/MDM/DAM and other technology implementations, digital platform integrations, data acquisition, and other data services. Companies come to StrikeTru to master their data, control and manage it better, and leverage it effectively to support growth. For more information, visit www.striketru.com or contact [email protected].
About City Furniture
Ranked among Furniture Today magazine's Top 100 U.S. Furniture Stores, City Furniture leads the industry in its trading area by providing shoppers with an outstanding array of styles and choices at great values. Key product categories include furniture, mattresses, and home accessories. The company has 17 City Furniture stores in its network, which stretches from Miami through Vero Beach in southeast Florida, as well as to Naples and Fort Myers on the state's west coast. Also, as a premier Ashley HomeStore licensee in southeast and southwest Florida, City Furniture owns and operates 12 Ashley HomeStore locations. For information visit www.cityfurniture.com.