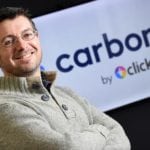 MAY 2 – International one-to-one marketing specialist, Clicksco Group, has joined the NVIDIA Inception program to further the capabilities of its Carbon by Clicksco technology.
Launched earlier this year, Carbon – a world-first audience management platform – allows agencies, advertisers and publishers to collect and leverage their customer data to enable better personalised online experiences and audience data monetisation.
NVIDIA's Inception program is a virtual accelerator, designed to nurture startups revolutionizing industries with advancements in artificial intelligence (AI) and data sciences. As a member of the program, Clicksco aims to position its technology at the forefront of digital innovation, by utilizing developments in deep learning.
Inception helps startups during critical stages of product development, prototyping and deployment. Every Inception member gets a custom set of ongoing benefits, from hardware grants and marketing support to training with deep learning experts.
Alistair McLean, head of data science and machine learning at Clicksco, said: "Innovation is key to pushing the boundaries of what can be achieved in the ever-evolving digital landscape. To stay ahead of the curve, Clicksco is committed to challenging and extending our team's expertise, with machine learning as one of our core specialisms.
"NVIDIA's Inception program complements our focus on enhancing our own pioneering technology to support our position as a market-leader, specifically through deep learning."
Deep learning is a form of machine learning based on neural networks, which are themselves inspired by communication processes in the brain, for example through multiple layers of neurons. Information is passed between the layers allowing each one to refine the output of the previous layer, with higher layers able to form a more sophisticated output.
Alistair added: "Through the Inception program, we're planning to tap into powerful AI computing tools and expertise from NVIDIA's Deep Learning Institute, as well as its latest technologies to ensure Carbon continues to offer our customers the best, most cutting-edge service. Being part of such a notable community also provides valuable networking opportunities with other AI-focused companies."
Clicksco is already applying deep learning from its Middlesbrough operation, in the heart of the burgeoning North East technology industry, using high-end graphics processing units (GPU) from NVIDIA. "GPUs are great for doing lots of complicated matrix multiplications – which is effectively what deep learning requires – very quickly," explained Alistair.
"We're currently using deep learning on the GPUs to improve the classification of websites within our Carbon network, by gathering more information from the content of the pages themselves so they can be segmented into a hyper-specific interest or intent to allow platforms, marketers and publishers to identify how to best optimise their campaigns."
The martech agency's involvement with NVIDIA follows last year's launch of its unique Knowledge Transfer Partnership (KTP), blending Clicksco's big data and digital expertise with the statistical knowledge of Durham University – one of the UK's top five educational institutions[1] for mathematics.
Alistair, who also plays a key role within the KTP team, concluded: "Through the KTP with Durham University and our affiliation with NVIDIA, we will continue to build on Carbon as an industry-leading customer profiling system, capable of providing valuable insights into our clients' audiences to help them ultimately generate increased revenue."
For more information, visit www.clicksco.com and keep up to date with the latest news via LinkedIn and Twitter.
[1] https://www.thecompleteuniversityguide.co.uk/league-tables/rankings?s=Mathematics
Issued on behalf of the Clicksco by The Tonic Communications. For more information, contact Georgina Phillips on+44 191 2299702, email: [email protected]