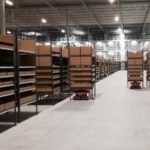 Atlanta, Feb. 6, 2019 – Robotics and warehouse automation company, GreyOrange, announces the deployment of its Butler system for Zalando, the leading online fashion and lifestyle platform in Europe. The new 30,000 square metre fulfillment center, about the size of three football fields, is located in Brunna, near Stockholm, Sweden. It is equipped with the most advanced automation technology in Zalando's portfolio.
The GreyOrange goods-to-person Butler system was deployed to manage Zalando's growing volume of orders as well as to complement and support manual work for employees.
"Zalando believes in pairing cutting-edge automation solutions and passionate employees," said Jan Bartels, VP Customer Fulfillment and Logistics, Zalando. "We use automation to ease the workload of our employees, by taking on monotonous and non-ergonomic tasks. At the same time, we increase efficiency. Better and faster warehouse operations allow us to process orders even faster, and our customers will benefit from shorter delivery times."
The Butler AI-powered system offers a deep and multi-SKU storage system. Its stringent SLA-based order fulfilment requirements were met, as many of its order-to-dispatch times were halved.
"We are proud to work with Zalando and see how the GreyOrange Butler speeds up the order handling and dispatch," said Dieter Berz-Voege, CEO EMEA, GreyOrange. "Artificial Intelligence works well in the online marketplace, and also at the backend to manage a very extensive product range, handle thousands of orders per minute and deliver faster order-to-dispatch cycles. Such automation enables fulfilment centres to be future ready, to handle the variabilities of new products and the volatility of seasonal peaks."
GreyOrange ButlerTM goods-to-person robotics solution optimizes supply chain processes from inventory management to order picking. It has been deployed in distribution centres in Japan, India, Europe and the Americas across industries such as 3PL, e-commerce, electronics and retail. Some of its key customers include XPO Logistics in USA, and Nitori, Daiwa and Trusco in Japan.
Meet GreyOrange solution experts at LogiMAT, on 19-21 February 2019, at the Stuttgart Trade Fair Centre, Hall7, Stand F49.