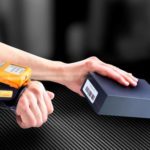 ProGlove combines the need for real-time, easy-access, cloud-connected data with its featherlight, fast, and accurate wearable scanning devices to help businesses build a smarter, well-equipped workforce
CHICAGO and MUNICH, April 2, 2020 – ProGlove, the leader in ergonomic wearables for industry, is introducing the MARK Display wearable scanner and the ProGlove Cloud analytics solution to the retail, logistics, transportation and manufacturing industries. MARK Display brings essential information right where frontline workers in the supply chain need it most: to the back of their hand. MARK Display untethers workers from paper, hand-held devices, and static workstations while keeping crucial information with them always.
MARK Display
The ample display on ProGlove's matchbox-sized multi-functional scanner makes it easy and effortless for employees to obtain important information needed to complete their assignments quickly and with fewer errors. The newest member of the MARK family of wearable scanners is optimized for businesses building durable, future-proof supply chain processes and creating a well-equipped workforce.
Along with the high contrast, non-reflective display, MARK Display's acoustic and haptic feedback guides workers through their processes saving up to six seconds per scan and reducing error rates by up to 33%. MARK Display is IT-friendly, Bluetooth Low Energy (LE)[i] enabled, and cloud-connected and allows customers to see immediate results across the business supply chain. MARK Display is available now for early preview.
"The adoption of digitization and the Internet of Things is driving organizations to be increasingly connected to intelligent, worker-focused technology. Our customers are at the forefront of investing in intelligent technologies, processes and workflows to capture enormous amounts of process- and site-related data," notes Andreas König, CEO of ProGlove. "However, the need to deliver better intelligence, faster has often been hindered by endless integration loops and the sheer effort that comes with it. Our new product initiatives address this burden and help our customers stay focused on their efforts to drive warehouse intelligence and worker enablement priorities."
Barcode scanning is crucial when documenting process steps and ensuring traceability. This is essential for tracking a tracing a product through the supply chain. ProGlove provides a scanning solution that is easy to deploy, reliable in use, and dramatically cuts scanning time while also reducing picking errors because of the feedback it gives workers.
ProGlove Cloud
ProGlove Cloud, the first human-centered industrial process analytics solution, enables real-time operational data to be put into context. Insights from ProGlove Cloud help business identify real and potential supply chain bottlenecks, reallocate workers when unforeseen peaks occur, or deliver instructions to increase workers' safety.
ProGlove has created an interactive virtual booth to discover its products, including demos of the new MARK Display wearable barcode scanner, online. Learn more at ProGlove.com. 

About ProGlove:   
ProGlove builds the lightest, smallest, and toughest barcode scanners in the world, connecting the workforce to actionable information. The smarter workforce solutions from the German-headquartered company are used by more than 500 renowned organizations in manufacturing, production, logistics, and retail. ProGlove was founded in December 2014 after winning the Intel "Make it Wearable" Challenge in Silicon Valley and is backed by growth-focused investors Summit Partners, DICP, and Bayern Capital. ProGlove employs 200 people from over 40 countries with offices in Munich, Chicago, and Belgrade. More information is available at www.proglove.com.
Media Contact
ProGlove
Jennifer Üner
Senior Communications Manager
[i] Bluetooth is a registered trademark of Bluetooth SIG, Inc. All trademarks are the property of their respective owners.