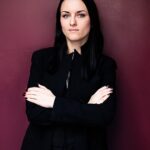 Reno, NV, Nov. 11, 2020 — Sarah Melton has joined Reno based SuppliesOutlet.com as the company's new Vice President of Ecommerce. Sarah has already enjoyed a successful 13-year career in ecommerce and is excited to join one of the biggest names in ink and toner suppliers.
Sarah began her career in ecommerce working for Seattle based linens company, Sin in Linen, in customer service, her natural inquisitiveness led her to start asking questions about how the company carried out its marketing and online activity. This led to her getting more involved in that side of the business and by the time she left, after eight years with the company, she had learned everything about the day to day of running an ecommerce business. A few notable accomplishments during Sarah's time with the company are achieving Top Holiday Seller status on Amazon a few years in a row, launching their Facebook ads program and influencing their manufacturing process by building reports about inventory sales rates.
Sarah's next role saw her take up the position of Director of ecommerce with designer clothing store, Baby & Company. This role allowed Sarah to develop and improve the existing ecommerce presence and put her own stamp on it. Whilst managing a team of seven people, Sarah increased the effectiveness of all aspects of the online sales function and successfully increased online revenue by 60%, growing the overall sales of the company by 18%.
Always seeking new challenges, Sarah followed up on her successes in her previous position and moved to a new role as ecommerce manager for the Komando Shop, a site associated with the popular Kim Komando Radio Show. This role allowed Sarah to use all of her skills to develop new ways to monetize the show's content and develop new revenue streams. In her first year, Sarah not only increased physical electronics profitability by 8% but also increased ebook sales by 22%.
Sarah attributes her success to her strong work ethic and her desire to continually improve her skills. Sarah is constantly learning, be it the newest developments in technology or the latest industry updates.
On her new position, Sarah comments, "Supplies Outlet has a great team and I'm excited to join."