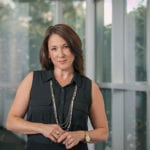 WD Partners Hires Elaine Kleinschmidt to Lead Strategy & Experience Design
COLUMBUS, OH. – WD Partners announced that well-regarded industry professional Elaine Kleinschmidt has joined the firm's Columbus office as Executive Vice President of Strategy & Experience Design. In this role, Kleinschmidt will lead the Strategy & Insights team as well as further define the firm's approach to customer experience and integrating the customer journey into each project.
"Elaine is a respected professional with great knowledge of the industry and a focus on being consumer centric in her approach," said Chris Doerschlag, CEO of WD Partners. "With twenty years of experience across agencies, clients, and a variety of influential brands like Under Armour, Target, and Victoria's Secret, Elaine is poised to make an immediate impact on our business, offering expert oversight on creating integrated customer experiences and strategies for our clients."
With a creative background and an eye for trends, Kleinschmidt is an expert in scaling powerful brands to meet the ever-changing demands of multi-channel connectivity. At WD Partners, she will be directly responsible for the firm's approach to the customer experience journey, identifying key insights, moments and opportunities for brands to make an impact in their customer's lives. Kleinschmidt will also support the firm's Business Development team in the pursuit and acquisition of new clients and work hand-in-hand with the design team leaders to connect the strategy to the creative execution.
"I'm thrilled to be joining such a highly accomplished firm like WD Partners and for this amazing opportunity to build and grow the Strategy & Experience Design practice," said Kleinschmidt. "With the retail industry and consumer markets in such a state of flux, I'm looking forward to collaborating with the team on a shared vision for our growth, and driving success for our clients."
Kleinschmidt joins WD Partners from Big Red Rooster, where she most recently served as VP, Digital Experience leading transformative work for brands like Macy's, Under Armour and Cabela's with a focus on innovation, OmniExperience strategy, and digital engagement. Previously, Kleinschmidt held creative leadership positions at Tweenbrands, Resource Interactive, Target, and Victoria's Secret, where she consistently brought vision and drive to profitable growth and market dominance. A creative by trade, Kleinschmidt earned a bachelor's degree from The Ohio State University in Visual Communications Design.
With over 50 years of experience, WD continues to put the customer at the center of the journey and experiences the firm creates in partnership with their clients. Elaine's background, expertise and holistic approach make her the ideal person to drive that forward into the next era.
ABOUT WD PARTNERS
WD's mission is to drive and shape the future of customer experience. With a passion to solve our clients' challenges and anticipate their future needs, we are customer fanatics that pride ourselves on being on the forefront of change. WD's integrated services include: strategy & insights, brand & design, digital, architecture, engineering and construction services. We are thinkers that do.
Media Contact:
Tara Yavorsky
Director, Marketing
614-634-7275