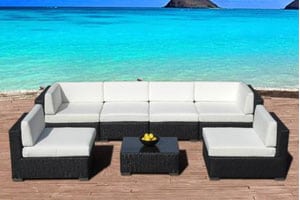 Ordering large-ticket items online is on the rise and will continue to grow as eMarketer expects annual double-digit growth through 2018 of furniture and home furnishings including appliances and home improvement items. In 2014, sales of these products rose an estimated 15.2%, according to eMarketer.
Home Depot's first-quarter earnings noted this trend with a whopping 21.5% increase in online sales. The home improvement store has invested heavily in its omnichannel strategy and is reaping the financial benefits as a result. Home Depot estimates that about 40% of online customers buy online and pickup in store. By the end of this year, buy online and deliver from store will be available for all of their U.S. stores. That's quite an undertaking for the home improvement business, one that has proven to be a challenge even for the two largest parcel companies.
In FedEx's recent earnings call executives said they were experiencing an increase in the handling of bigger, bulkier items such as mattresses, swing sets and big-screen TVs. This is not surprising based on retail trends, but FedEx's small-parcel network is designed for just that – small parcels. According to both FedEx and UPS, the growing number of larger items moving through their network is requiring more and more manual intervention. The result is additional fees being applied for these types of deliveries.
The oversize accessorial can be hefty, averaging about $67.50 per delivery for both FedEx and UPS. An oversized package is one that weights 150 lbs. or less and measures greater than 130 inches in length and girth.
In addition, effective in June, FedEx and UPS are modifying their additional handling accessorials to reflect the changing online ordering preferences. Previously, carriers defined additional handling as applicable when a package's longest side measured between 60 and 108 inches. Now it will be applied to packages with the longest side greater than 48 inches. This means more packages qualifying for additional handling charges, and increased costs for shippers.
As increased online shipping costs for bulky items mount, does this spell the end for ordering big-ticket items online? Certainly not and for shippers there are options. First, always review your shipping costs on a regular basis. Perhaps you can switch from next-day ground delivery to three-day ground delivery or even reevaluate your delivery and fulfillment network.
Seek alternative options such as the U.S. Postal Service, regional carriers and local couriers. While FedEx and UPS are highly regarded and excel in their services offerings, they are certainly not the only option.  Importantly, a non-biased, third party can assist shippers by auditing existing invoices as well as recommending the best approach to reduce shipping costs.
The retail industry is a highly competitive space. Reducing shipping costs will not only help improve a company's financial state, but it could also help improve customer satisfaction and drive faster business growth.
Gary Colangelo is Vice President of Client Service at Spend Management Experts