With the strong dollar over the last few years, many retailers have shied away from looking at cross-border ecommerce. However, even with some minor fluctuations in the foreign exchange markets, it is still best to have the right cross-border enabled infrastructure and mechanics so you can take advantage of a smart growth opportunity and be ready to act no matter the exchange rate. When the Brexit vote happened, many savvy cross-border shoppers enjoyed the sudden discount rewarded by the drop in the pound.
Retailers around the world are looking to grow their businesses in a variety of ways, and many have turned to cross-border ecommerce. A recent report from DHL predicted that by 2020 cross-border retail volumes would total $900 billion, a 25% increase from 2015. And a recent study by Pitney Bowes shows that two-thirds of consumers have made a cross-border purchase at some point and, 32% do so at least once a month. Judging by these numbers, the market potential of growing your business internationally is endless as volume and frequency grow.
For many businesses, it seems obvious. Broadening the aperture to expand into new markets is one of the best ways to grow your business and increase profits. The real challenge is fully optimizing the potential of cross-border ecommerce. For businesses currently offering a cross-border experience, it's imperative to constantly be improving the experiences and thinking about what you can be doing better.
Here are elements to consider as part of your cross-border ecommerce strategy:
Reach More Consumers
Many U.S. companies focus too much on the traditional markets including the UK, Canada and Australia. Instead, consider which countries are priority markets and which could provide new opportunities for growth. One of our clients who expanded in Asia saw a 200% lift this holiday season because of a one-day sale that went viral in Japan and South Korea.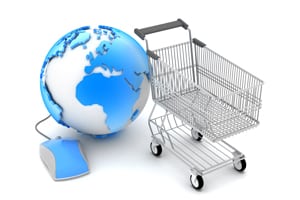 The biggest ecommerce market in the world is China. In 2016, there were over 410 million shoppers in China who shopped cross border. That number is set to exceed 740 million in 2018 according to a recent report from iiMedia.
Meet Them Where They Are
Cross-border experiences are popping up all over the web, but simply offering it doesn't mean consumers will recognize your brand or are seeking you out. In some markets they will shop directly on a retailer's site, while others simply prefer to shop on an in-country online marketplace that offers cross-border merchandise.
To add complexity, some may choose to visit both marketplaces and top retailers. You may find that some shoppers may even visit your stores during their overseas travels and want to continue the experience when they go home. We call this phenomenon "in-store global, online local." About 61% of consumers we surveyed took part in this ecommerce phenomenon.
Embrace the Cross-Border Cart
Getting the cross-border shopper to hit submit means recognizing their preferences as well as what's right for your business. We constantly perform A/B testing to understand the best presentment.
Payment options also impact the consumer experience and are continually evolving as technology advances. See my colleague Chris Johnson's piece from last month, Payment Pitfalls in the Cross-Border Cart. Chris notes that understanding the nuances among ecommerce consumers and the payment market – two worlds that are often at odds with each other – is integral to succeeding in cross border.
Set Expectations on Revenue and Profit
Cross border can contribute to topline growth but expectations need to be set as margins will not be the same as domestic. Be realistic when setting your strategy and don't forget that reaching new consumers, while potentially expensive up front, can be foundational to future growth.
Be Ready Anywhere, Anytime in the World
It may seem obvious but having a clear end-to-end process can make a huge difference for a company, regardless of the potential for international regulations and tax constraints. In this day and age, it is important to understand country-specific duties, taxes and compliance while not being limited by them. Having a partner work with you can make all the difference for an ecommerce company.
International ecommerce and managing cross-border experiences may seem intimidating but it's not too late to take your business into the global marketplace. More and more retailers are reaching consumers in new international markets to reach new consumers.
Gregg Zegras is Senior Vice President of Global Ecommerce for Pitney Bowes