If you're building your brand successfully, site traffic should be rising. It's been estimated that up to 30% of ecommerce site visitors utilize site search. And search users can convert at 50% to 80% higher rates than non-search users. But if your visitors don't find the products they're looking for, you won't benefit from the same boost.
Ideally, your customers can find the products they're looking for without having to wade through pages of products. That's the goal. Customers searching on your site should have a simple and seamless experience.

Here's how to ensure your customers can search for and find exactly what they want.
Make Search Visible
Visitors to your site should be able to quickly and easily spot search as soon as the site loads. Place search at the top of your site and mark it clearly like on the Marika homepage. A top priority should be how the page looks and functions on mobile. If you're using responsive design, you're faced with much less real estate, but search should still feature prominently. Finally, include sample text in the search field to draw attention and encourage visitors to explore.

Use Autocomplete
Time is your enemy, especially on mobile. Help customers find what they need by using autocomplete for ecommerce site search queries. This will help users complete searches faster, cut down on problems resulting from misspellings, and put specific products in front of them in the shortest amount of time.
For autocomplete, providing actual suggested products can help get customers to convert faster. Adding a thumbnail image to these results will make them even more effective.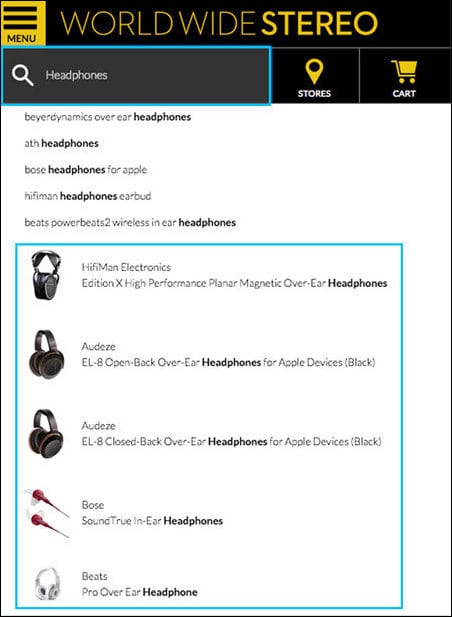 Display Related Searches
Your customer is searching for a new winter coat using the query "down parka." Displaying related searches beside or below results may help her broaden her search to other types of coats, or point her in the direction of accessories to buy along with her new coat. Related search terms can help you increase upsells or cross-sells while giving shoppers an idea of the breadth of your product offerings.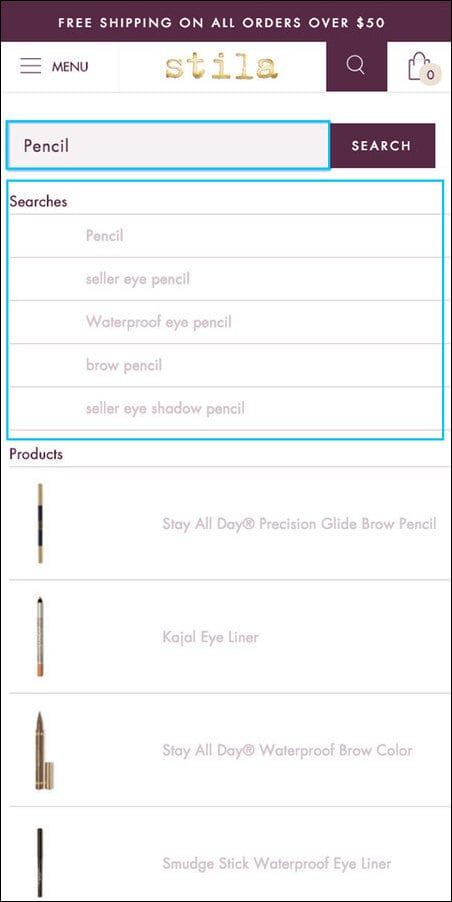 Similarly, filtering lets a shopper who searches for "coat" better find what she's looking for with filters for "men's coats," "women's coats," or "down coats," for example.
Support Product Name and SKU Searches
If your shopper has done her research and is searching for a very specific product, she might use a SKU number or a specific product name, rather than a general search like "down parka." Ensure your search is set up to handle this broader range of search term types as a best practice – only 16% of sites don't support accurate product name or number as a search string; don't get caught in this under-delivering minority.
To save your shoppers time, indicate that you can search by product number or SKU (like Sanrio does) within the search field using phrases like "Search product name or #." Finally, if you're returning one result based on a SKU search, consider redirecting shoppers directly to that page.

Optimize Product Listings
Though this is the last best practice, it's really where your search functionality starts – at your product listings. To ensure you're providing the best possible results to your searchers, add any of the terms they might seek to find your product, including misspellings, synonyms, unusual colors and regional names – Google Trends can help with this.
Take Mint Julep's search for example. While attempting a misspelled search for "tunick" instead of "tunic," they suggested items of the correct spelling instead of turning up empty results on account of a one-letter difference.

Monitor Searches with Zero Results Regularly
Searches that produce zero results can signal missed opportunities. It's a good idea to establish a regular process for reviewing your customers' searches to find search strings currently yield zero results but do match items your product catalog. This is a great way to figure out which misspellings are occurring most frequently.
If you're experiencing a boost in traffic from other countries, you might find that search strings use a different vocabulary than you expect. For example, in British English the common term for sweater is jumper. Create redirects for terms like these to maximize search conversions.
Offering a seamless search experience for your shoppers is key to helping them find what they need quickly, rather than getting frustrated and looking to another site. With these best practices, you can drive conversions and boost brand loyalty.
James Van Arsdale III is Director of User Experience for WebLinc