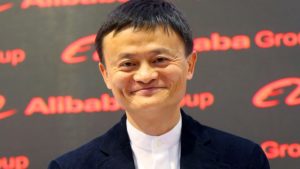 Jack Ma, founder and chairman of Chinese ecommerce behemoth Alibaba Group Holding Ltd., announced he will step down in September 2019, to be succeeded by Alibaba Group CEO and chairman Daniel Zhang. Ma will continue as executive chairman during the transition period.
Ma, China's richest man at an estimated net worth of $40 billion, will complete his current term as a member of Alibaba Group's board of directors until its general meeting of shareholders in 2020. Zhang had been CEO of Alibaba unit Taobao and president of Tmall.com; he was named CEO of Alibaba Group in 2015, succeeding Jonathan Lu and stepping up from COO.
Bloomberg reported that Ma, a former English teach who grew Alibaba into a juggernaut in a country suspicious of capitalist success, helped spur technology development in China on par with Silicon Valley and contributed in a major way to strong economic growth there.
"I have put a lot of thought and preparation into this succession plan for 10 years," said Ma in a statement. "I am delighted to announce the plan today thanks to the support of the Alibaba partnership and our board of directors. I want to offer a special thanks to all Alibaba colleagues and your families, because of your trust, support and our joint enterprise over the past 19 years have prepared us for this day with confidence and strength."
Ma said Zhang, who has been with Alibaba Group for 11 years, "has demonstrated his superb talent, business acumen and determined leadership. Under his stewardship, Alibaba has seen consistent and sustainable growth for 13 consecutive quarters."
Ma founded Alibaba in 1999 with 17 others; it is now valued at $420 billion. Alibaba Group today includes a vast array of businesses involved in ecommerce (Alibaba.com, AliExpress, Taobao, Tmall.com) as well as electronic payment (Alipay), shopping search engines, cloud computing and logistics. Similar to Jeff Bezos of Amazon and his ownership of the Washington Post, Ma's company owns the South China Morning Post.