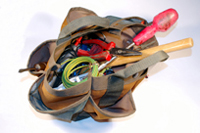 Can you do your own search engine optimization? Absolutely, but bear in mind that it's easy to get it wrong, or to leave lots of money on the table.
For starters, you must be well schooled on SEO — from the "best practices" to the technical nuances. You also need a bevy of SEO tools and resources to be effective.
There are many SEO training materials available via paid subscription at InternetMarketingNinjas.com, SEOmoz.org and Training.SEObook.com. If you don't have the budget for a subscription, try the public SEOmoz Blog.
Conferences like SMX West, SMX East and SMX Advanced offer networking plus sessions on topics including, keyword research, link building and local search.
Interact
You can gain a lot by participating in online forums, such as WebmasterWorld.com, Forums.DigitalPoint.com, HighRankings.com/forum, and Cre8asiteForums.com.
Blogs can provide a level of interaction as well, through commenting. The SEOmoz blog has an active community of commenters, where site users can give a "thumbs up" or "thumbs down" on individual comments. Social news sites like Sphinn.com offer both commentary and community, where contributions are given thumbs ups and downs.
Arm yourself
Use the free set of tools provided by the three major search engines. Create an account in Google Webmaster Central, Live Search Webmaster Center and Yahoo Site Explorer, and verify yourself as a site owner on all three. This will provide you access to diagnostic tools like robots.txt validators, and reports on backlinks, spidering activity, server errors, top search queries, anchor text and more.
Training resources such as Internet Marketing Ninjas, SEOmoz and SEOBook all provide a variety of powerful tools. The latter two offer a number of tools for free, e.g., TermTarget from SEOmoz and HubFinder from SEOBook. Other valuable paid tools include the ShoeMoney Tools, Raven, Enquisite and KeywordDiscovery.com.
Survey the landscape
Assess your site and those of your competitors for SEO success factors such as keyword URLs, keyword-rich title tags, H1 tags, keyword prominence, and so on. To survey your and competitors' title tags across a large number of pages, use the search engines' site operator and set (in the preferences) the number of results returned per page to 100.
You want each title tag to be unique and focused on a relevant keyword theme. Make each title tag count, because it's given the most weight by the search engines of all the elements of the page — it also heavily influences the searcher's click decision from the search results.
Analyze the text, HTML, inbound links, internal links, anchor text, etc. to determine your ideal configuration for success. (Include a dose of your own critical thinking.)
Measure, test, measure, refine
Test your assumptions and the assertions of others — particularly SEO bloggers. Measure key performance indicators. Treat SEO like a series of experiments. Make iterative improvements to your URLs, title tags, H1 tags, internal linking structure, anchor text, page copy, and so on.
What sorts of KPIs should you measure and aim to improve? Besides the obvious rankings, traffic and sales metrics, there's also brand-to-nonbrand mix, unique pages, pages yielding traffic, keywords-per-page, visitor per keyword, index-to-crawl ratio, and engine yield.
Make nice with IT — or bypass them
Your IT team must be persuaded to have a stake in your site's SEO success, because you are reliant on them to implement many of the optimizations (such as URL rewrites, 301 redirects, breadcrumb navigation, tag clouds, PageRank sculpting, etc.). Start by heaping on the praise and appreciation — maybe buying them pizza!
But if conflicting priorities and insufficient internal resources stymie you, you will have to institute workarounds that minimize IT involvement. Have no fear, you can still accomplish what you need to with your site, with a bit of "out of the box" thinking and some technology.
For example, you could use proxy optimization that optimizes the URLs, titles, page content, navigation, etc. via a proxy server, obviating the need for major invasive surgery on the underlying e-commerce platform. Still, I'd start with the pizzas and go from there.
Stephan Spencer (sspencer@netconcepts.com) is founder/president of natural search marketing firm Netconcepts.