Payment gateways are how money is moved from shopper to you; here are the basics to know (credit: CardMapr.nl on Unsplash)
If you're selling anything online, odds are part of your sales funnel is dependent on a payment gateway of some sort to accept payments through a bank card or third-party service.
Payment gateways are essentially the technology that authorizes a transfer of funds between a customer's credit card company and the merchant's bank account. Here's a basic illustration of how it works: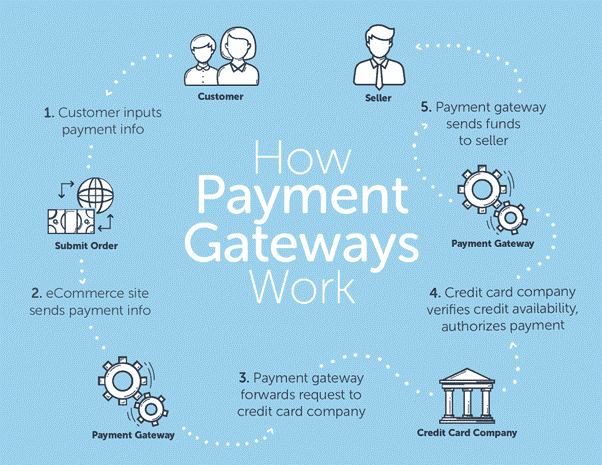 Source: StoreApps
Types of Payment Gateways
Depending on the size of your business, your needs, preferences and budget, there are a variety of payment gateway types to choose from. These are some of the most common:
Hosted Payment Gateways (Redirects)
Hosted payment gateways or redirects normally mean sending customers to another site to process payment. One of the most common examples is PayPal. Other lesser-known ones include Bluehost, SiteGround and A2 Hosting.
It's easy to set up and many small businesses rely on this form of payment. Large businesses also offer PayPal as an option because of its immense popularity. Since PayPal offers merchants and customers the ability to set up recurring payments, this becomes a good option for some companies.
Payment gateways can also be self-hosted. In this scenario, according to GoCardless.com, "customer payment details are collected directly on the merchant website. These details are then encrypted and submitted to the third-party payment gateway."
Checkout On Site, Payment Offsite
In this case, the processing/ checkout is done on the merchant's site but final payment is done on a redirect site such as Stripe. Much like the redirect option, this offers simplicity but limited customization of the user experience.
Customizable On Site Payment Gateways
On-site payments are for larger companies that are ready for larger responsibility. This essentially means that all payment and processing is done through your own server. Everything is up to you and handled by your team.
The design of the checkout page, loading time, ease of access and general customer experience is now in your hands. This option does give you more choices but there's also more to worry about, which is why it's best suited for larger companies with the resources to handle the job.
Examples of Payment Gateways
There are multiple options to choose from when you are looking for third-party payment gateways but the most common ones are PayPal, Stripe, Amazon Pay, 2Checkout, Apple Pay, Square and Authorize.net. They fall under different payment gateway types and the option you narrow down on will largely depend on what you need from your payment gateway.
Limitations
As with everything, payment gateways do come with some drawbacks. Here are examples:
Security
While America is responsible for a quarter of the global card transaction volume, it is also responsible for nearly half of all worldwide credit card fraud. Also, according to a Pew Research Center Survey, only one in ten Americans are confident that a website can keep their credit card details secure. You should be aware of the potential effects of online fraud whether through phishing, identity theft, malware or data breaches.
Limited Options
No website can offer every single option to every customer. At the end of the day, you need to narrow down to a few options that are most popular with your customers. Most businesses in the U.S. tend to offer at the very least PayPal and credit card processing as options.
While this is almost always enough, you might lose a few customers from other countries that do not have either option or simply want another one. This is a downside to the simplicity and ease of access to online payments, so it's just something we have to accept as merchants.
Wrapping It Up
It goes without saying that an ecommerce store is nothing without a secure, safe and easy-to-use payment gateway, which is why finding or creating one that's just right for your business will not only help you increase sales but also retain customers and build loyalty.
[Editor's note: this post was published in 2020 and has been updated].
Burkhard Berger is founder/blogger at Awesomex