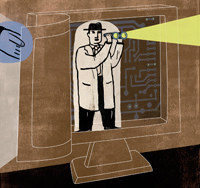 When it comes to search engine optimization, the tools you arm yourself with are just as important as your skill set. For your site to be successful, you know you have to keep a close eye on your competition. You just may not know the best way to do this.
There are myriad tools available that can help you keep tabs on what your rivals are up to, and much more. Some of these are free, while others are by paid subscription. Several tools help you track and monitor your own Website, as well as gain valuable information about your competitors. They can help you check inbound links, and analyze keywords, rankings and traffic on competitors' Websites, among other things.
Some SEOs invest significant time and money building proprietary tools for inhouse only use — Netconcepts being one of them. This, however, is a serious commitment and a huge investment. Most don't have the resources or budget available to undertake such an endeavor. Luckily, you don't have to; there are numerous publicly available tools.
Where to start? Set aside some budget for the following subscription-based tools, as they are essential to your SEO toolkit.
SEOmoz PRO Tools (inbound link and anchor text analysis, page analysis, popular searches, crawl test, keyword competitiveness, etc.)

Internet Marketing Ninjas Tools (common cocitation analysis, your and your competitors' common backlinks, deep link ratio, topical neighborhood authority finder, outbound link check with reciprocal analysis)

ShoeMoney Tools (inbound link analysis, text optimizer, link finder, keyword rank checker with e-mail alerts, PPC tools for keyword and ad copy generation)

KeywordDiscovery.com (keyword popularity with historical data and graphs, projects, etc.)

SEOBook (competitor analysis, Website health check, hub finder, duplicate content analysis)

SEMRush (traffic estimates across high-performing PPC and organic search terms, example Google ads, cost per click)
Then there are the free tools. And who wouldn't want something for free? A word of caution, though: Sometimes you get what you pay for.
Some of the free SEO tools are prone to malfunctions, outages, nonexistent customer/tech support, inaccuracies, bugs, lack of updates and premature obsolescence.
But there are actually some great SEO tools out there that are not only free, but also reliable and accurate. The tools highlighted below are in the latter group.
SEOBook offers a number of valuable free tools:
Backlink Analyzer (review anchor text of inbound links)

SEO for Firefox Extension (displays for each listing in the Google search engine results page the page's PageRank, domain age, site age, cache date, numbers of backlinks with .edu and .gov broken out, etc.)
SEOmoz offers for free:
Trifecta (estimates popularity and importance of a page or domain, predates the much better Linkscape tool, which is subscription-only but well worth it)

TermTarget (analysis of a page's declared keyword focus)

Linkscape (in a limited version that provides an assessment of link authority, a close equivalent to PageRank scoring but more precise and accurate)
Some additional free tools that are useful in monitoring competitors include:
MarketLeap (compare your link popularity against your competitors)

Thumbshots Ranking (compare common results between engines, keywords)

SEO-browser.com (page analysis; use "advanced" mode to really dig in to the details on your competitor)

QuantCast (traffic and demographics of competitors)

Compete (traffic and referral analytics of competitors)

SpyFu (competitors' top keywords, estimated PPC budget)

Google Insights for Search (keyword popularity on Google with historical trends and top-rising related searches — make sure you're logged in or you won't see numbers)

Google Trends for Websites (traffic trends across specified competitors and others, related Google searches)

Yahoo Site Explorer (inbound link reporting on competitors, limited to 1,000 results)

Wolfram Alpha (new search engine, or "computational knowledge engine," as they call it; type in the competitor's company name then try its domain name
In addition to monitoring competitors' keywords, rankings, links and traffic, you should also keep up to date on their latest news. And just as you keep track of your own online reputation, you should also monitor your competitors.
Use Google Alerts or Yahoo! Alerts to get automatic e-mails when there is new competitor-related results. Note that sometimes this "news" can be outdated and redundant. You might also consider signing up to receive your competitors' e-mail marketing messages to monitor the news and offers they are sending to customers.
Don't forget about all the social media outlets. If your competitors are actively involved in social media, be sure to "follow" them on Twitter, "fan" or "friend" them on Facebook, and perhaps "link" with them on LinkedIn. You can also use TweetBeep to help monitor competitors' Twitter mentions.
If this all sounds like too much to keep track of, you are in luck: There is one more tool to help simplify monitoring your competitors, and it will save you a lot of time.
Use a feed reader to feed competitor news from Google Alerts, Yahoo! Alerts, Twitter and other RSS feeds. There are several feed readers available; NetVibes and Google Reader are two of our favorites.
With this extensive list of tools for competitive analysis at your disposal, you can do the forensic analysis required to inform your own strategy and tactics. This will, hopefully, enable you to leapfrog your competition.
Chances are that only a fraction of these tools are now being used in your company. That's a real travesty — because, if that's the case, you're letting your competition eat your lunch.
Tina Kelly is an online marketing consultant with natural search marketing firm Netconcepts. Stephan Spencer is president/CEO of Netconcepts, inventor of the automated natural search technology platform GravityStream, and co-author of the book The Art of SEO, due out this year.