Retailers constantly seek ways to stand out in crowded inboxes and influence subscribers to make purchases, some of them by offering deep discounts. But for companies that either can't or don't want to shrink their margins, finding another way to influence purchase decisions inside emails is essential. This is where using social proof in your email marketing can be a powerful sales tactic.
Luckily for companies — especially online retailers — they already possess a lot of content that can be used for social proof. Here are a few ways retailers can utilize this content in their email marketing programs to influence purchases.
How to Use Product Reviews in Email Marketing
Product reviews matter to consumers. Sixty-five percent of consumers check product reviews before making a purchase. When it comes to Gen Z, 67% of them read three or more reviews before making their first purchase. You've worked hard at collecting reviews, and now it's time to put them to good use.
Look at the elements of product reviews you can use, including the actual rating, customer quote, and even a piece of user-generated content (UGC), like a picture or video. From here, you can use these elements to showcase top-rated products for different categories or sets of products. Using one or all of the elements can make the customer feel confident in their decision to purchase from you.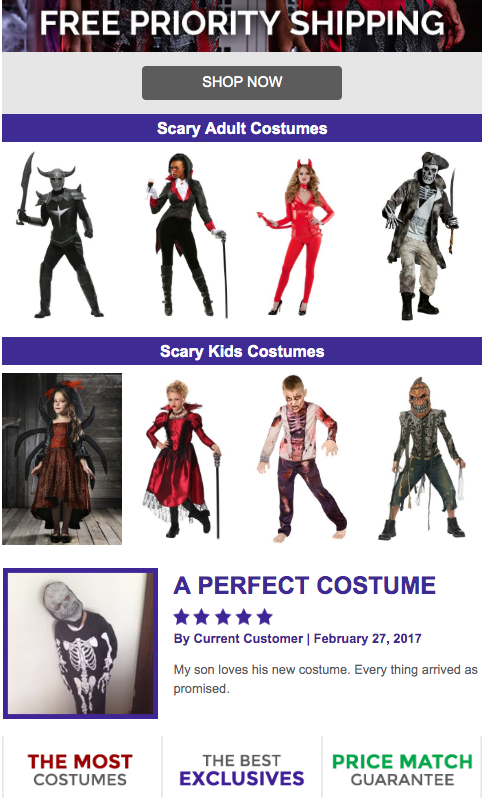 Here's an example from HalloweenCostumes.com that combines all of these elements in the recovery section of the email.
A great part about using product reviews in emails is that they fit well in a variety of email messages, from promotional emails to automated lifecycle messages like a welcome series or abandoned cart messages.
How to Use Social Media in Email Marketing
Social media provides a brand with the ability to engage in back-and-forth communication with consumers. It has also given brands a new outlet to let customers advertise and spread brand awareness for them. When someone shares a picture using a brand's product on social media, it provides some level of brand and product credibility.
Secondary content: Include user-submitted photos as secondary content in each of your emails. You can even start a hashtag to showcase how customers use your products, such as in this example from Crocs.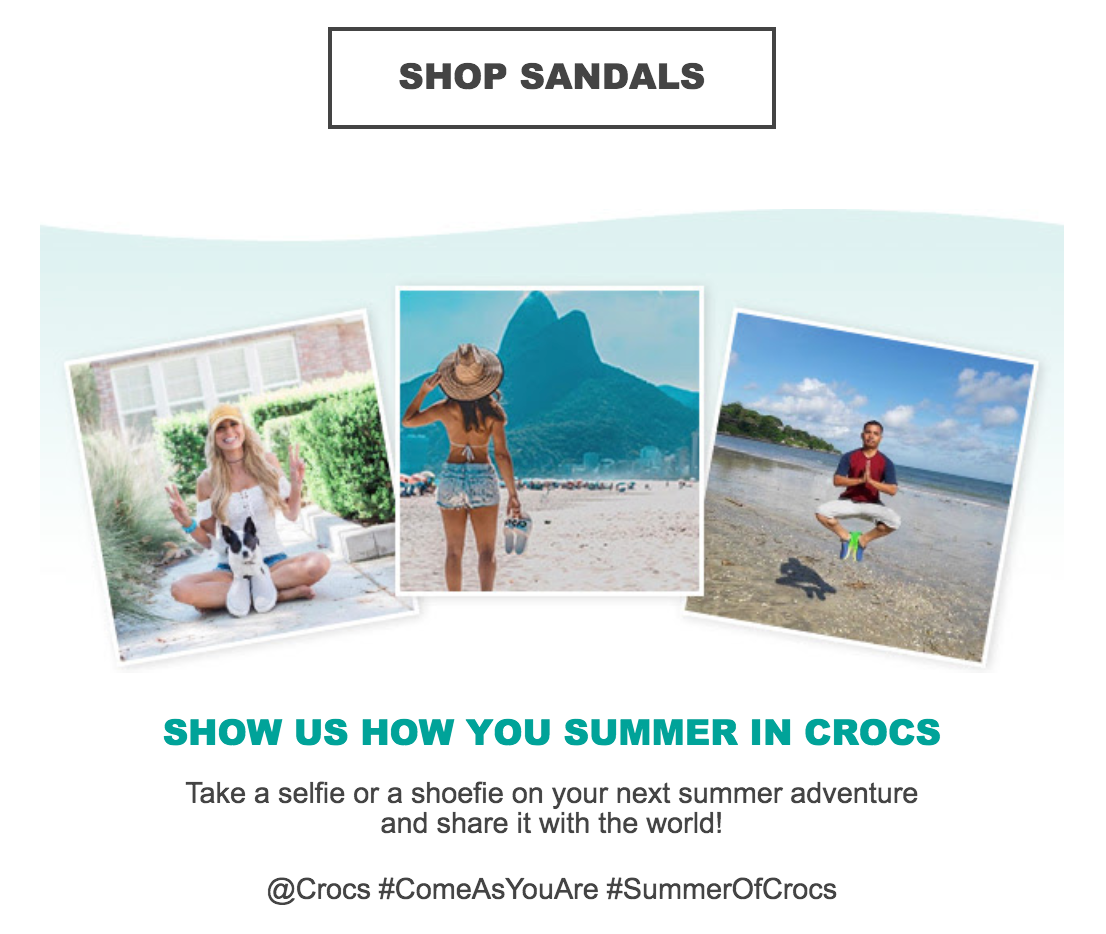 In this email, the main content is their standard promotion creative, but they use UGC as secondary content to showcase how these products fit into their customers' lifestyles.
Entire email: UGC does not have to be reserved for secondary content. As you can see in this example from Gone For A Run, the entire email is built by featuring a few of their customers from social media. Using customer photos like this provides an easy — and relatable — method for promoting products.
Influencers: We can't talk about social media and not mention influencer marketing. If you do use influencers, find ways to incorporate them into your email promotions.
You can do this by creating an email where they showcase products, such as their favorites or top trends. And when it makes sense to do so, consider putting messages like these into your lifecycle messaging series.
Top posts: Monitor your social feed for your most engaging posts. If a specific post receives more than the average number of likes or comments, you know it has engaged your audience — use these actual posts in of your messages.
If an outfit posted on Instagram is popular, feature that post in your emails with a screenshot of the actual post or show the outfit itself. Using screenshots or referencing the social media post might prove more effective as it directly ties the social aspect to the promotion.
How to Use Your Employees in Email Marketing
Customers trust your employees. Whether walking into a sporting goods store or a wine retailer, employee recommendations are trusted. This trust can be a powerful sales tool, so find ways to incorporate your employee product recommendations into your email marketing.
You can see in this example from REI that they humanize the email by showing staff pictures, names, locations, and quotes about why they recommend the products.
One great place to use recommendations like this is with browse recovery emails. Showcasing employee recommended products for the same category of products subscribers were viewing on their website can be a great tool in helping the customer decide on a product to purchase.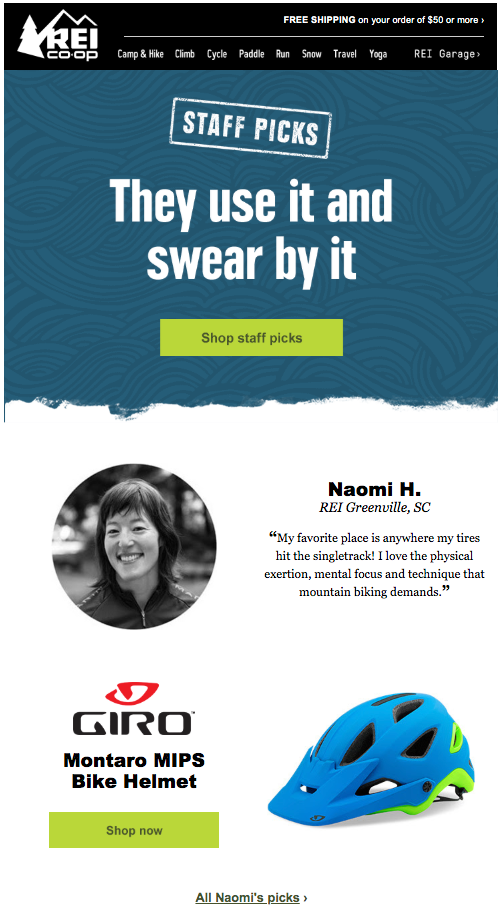 The Social Proof is in the Pudding
Using social proof to drive email conversions works. One company tested this by isolating website browsers based on the category of products viewed. They sent these consumers a "top-rated products" email based on that specific category and sent other non-category browsers a generic marketing message.
The social proof-driven message saw significant increases in all major email metrics, including an almost 8,000 percent lift in revenue per email. Even better, this email had only 3% of the volume of emails sent compared to the generic message — but it drove 140% more revenue.
Social proof comes down to finding the right opportunities to incorporate it. Look to your social networks, product reviews, and your employees to serve as proof for why they should purchase from your brand.
Trust me, they're open to suggestions.
Greg Zakowicz is a Senior Commerce Marketing Analyst at Oracle Netsuite