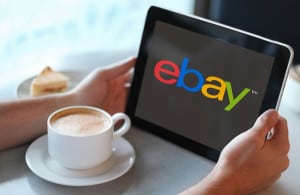 eBay has launched its first-ever branding campaign with the same message across four of its biggest markets: the U.S., Australia, Germany and the U.K., with plans to add more countries in 2015.
The idea is to show that eBay is not just a bidding marketplace – its legacy perception – but also a massive collection of storefronts for merchants and retailers to drive ecommerce sales.
The campaign, entitled "Shop the World," features online and TV ads that run in 15-, 30- and 60-second versions, showcasing the wide variety of goods available on eBay. For instance, it shows items like a surfboard, a smartphone and sneakers in action in scenes around the world, as well as iconic images like Dorothy's red shoes in the "Wizard of Oz" and the guitar of rock legend Jimi Hendrix.
To learn more about the thinking behind the campaign, Multichannel Merchant conducted a Q&A with Richelle Parham, chief marketing officer for eBay North America.
MCM: What is the purpose of eBay's global branding campaign?
Parham: We want to show consumers that whatever inspires them in the world can be instantly shoppable on eBay – from a piece of jewelry that's an expression of your personal style, to your dream car at a great price. We're launching now because it's a critical time for commerce – the lead up to the holiday season; and as such, we're using this campaign to support our sellers globally.
MCM: Can you provide details of the campaign (channels, frequency, length, etc.)
Parham: The creative is being deployed across television, digital, mobile and social channels; the campaign is also launching in conjunction with themed collections of shoppable inventory on eBay.com. It includes one 60-second, one 30-second, and two 15-second videos.
MCM: Will it expand beyond U.S., UK, Germany and Australia? Are those your four biggest markets?
Parham: Correct – those are our four biggest markets, but are planning to expand the campaign into more markets in 2015.
MCM: Talk about the current consumer perception of eBay and how you're looking to change it.
Parham: eBay is one of the world's most recognizable brands – just this morning, we ranked at #28 for the second year on Interbrand's Best Global Brands list. Behind the brand, however, is a rapidly evolving company. eBay is one of the world's largest marketplaces, with more than 800 million live listings at any given time, offering an unmatched selection of inventory delivered by a dynamic community of sellers around the world.
And many people may not realize that than 80% of sold items are new and 78% of our gross merchandise volume is fixed price (Buy It Now), through an experience that provides great search capabilities while also inspiring browse and discovery. This campaign shows consumers how anything in the world can be made instantly shoppable on eBay.
MCM: Any connection between the timing of this and the PayPal split? Or is it just about building awareness for the holiday peak?
Parham: No, the planning and execution for a campaign like this take a long time. This campaign was designed to coincide with one of the most critical times of the year for commerce – the holiday season – and to drive business for our sellers.